Press release
Record £800 million for groundbreaking research to benefit patients
The government announce £800 million to boost research and allow the development of ground breaking medicines, treatments and care for patients.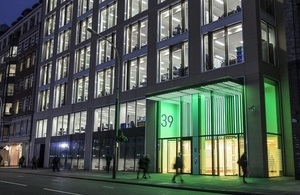 The government today announced a record £800 million funding to boost research and allow the development of ground breaking medicines, treatments and care for patients.
This is the UK's largest ever investment in 'early stage' health research which will fund advances in diagnosis, prevention and treatment, benefitting patients with diseases such as cancer, diabetes and heart disease. The thirty one awards include funding for four new Biomedical Research Units which specialise in dementia research.
The government is investing £800million over five years to develop NHS and university partnerships through the National Institute for Health Research (NIHR) - providing world-class facilities in the NHS. The partnerships announced today will collaborate with industry and charities, helping to develop the country's science and research base and secure the UK as a world leader in health research.
Prime Minister, David Cameron said:
"This unprecedented investment into the development of innovative medicines and treatments will have a huge impact on the care and services patients receive and help develop the modern, world-class health service patients' deserve.
"A strong competitive science and research base is a crucial part of securing sustainable economic growth and creating jobs of the future, and we have some of the best scientists and facilities in the world. This investment will help ensure we continue to be at the cutting edge."
Health Secretary, Andrew Lansley, said:
"We want to ensure we can give NHS patients the very best possible treatments and health outcomes. To do this we need to give British scientists the means and tools to develop ground breaking world class health research.
"That's why, as part of our £4 billion investment in Research and Development, we have committed £800 million for translational research - developing exciting new science into tangible, effective treatments that can be used across the NHS. This will help deliver real improvements in patients' chances of surviving and living a more independent, healthier and better quality of life.
"Dementia research also features strongly in the programme of funding announced today. Dementia is one of the most important issues that we face as our population ages. We know it can have a devastating effect on peoples' lives so it is essential that we develop new treatments to help NHS patients and their families.
"This record investment, part of our essential modernisation plans, will secure the NHS as a world leader in translational research, as well as helping to ensure we give patients the very best treatment possible."
Chief Medical Officer, Professor Dame Sally Davies said:
"The National Institute for Health Research centres and units announced today have been selected because of the world class quality of their translational research. By focussing on translational research across a wide range of diseases, the centres and units will help pull new scientific discoveries into benefits for NHS patients. I believe they will make a significant impact on the health of the population."
Sir John Bell, President of the Academy of Medical Sciences said:
"The NHS in England has become one of the best environments in the world for undertaking cutting edge translational research. This is creating real opportunities for improving the health of patients, as well as positioning the UK as a preferred site for clinical development by the pharmaceutical and biotech industries. Much of this capability is the result of careful and strategic investment in research infrastructure by the NIHR. The Biomedical Research Centres and Units are an excellent example of this investment and have transformed the relationship between hospitals and the research community."
ENDS
Notes to Editors
About the NIHR:
The National Institute for Health Research provides the framework through which the research staff and research infrastructure of the NHS in England is positioned, maintained and managed as a national research facility. The NIHR provides the NHS with the support and infrastructure it needs to conduct first-class research funded by the Government and its partners alongside high-quality patient care, education and training. Its aim is to support outstanding individuals (both leaders and collaborators), working in world class facilities (both NHS and university), conducting leading edge research focused on the needs of patients. http://www.nihr.ac.uk/
The selection process:
All applicants from NHS and university partnerships were assessed by an independent international selection panel. The funding allocated to each NHS Trust/University partnership has been determined by the scale, nature and quality of the research activity to be conducted in each NIHR Biomedical Research Centre or Unit.
NIHR Biomedical Research Centres support research across a wide range of disease areas. These Centres are the most outstanding NHS/University research partnerships in the country; leaders in scientific translation and early adopters of new insights in technologies, techniques and treatments for improving health. To ensure they are able to succeed, the NIHR BRCs will receive substantial levels of sustained funding. NIHR BRC funding supports the NHS infrastructure to create an environment where scientific endeavour can thrive, attracting the foremost talent and producing world-class outputs.

The NIHR Biomedical Research Units funding scheme aims to support NHS/University partnerships to undertake internationally excellent translational clinical research in priority areas of high disease burden and clinical need, and in which the country has identified research strengths. The scheme enables excellent, but comparatively small research groups at the forefront of their field internationally, to achieve or further develop critical mass. The priority areas for NIHR BRUs are:
• Cardiovascular Disease
• Deafness and Hearing Problems
• Dementia (including Alzheimer's disease, Lewy body dementia, vascular dementia)
• Gastrointestinal (including Liver and Pancreatic) Disease
• Musculoskeletal Disease
• Nutrition, Diet and Lifestyle (including Obesity)
• Respiratory Disease
Further information about the NIHR Biomedical Research Centres and Units is available at the following link:
http://www.nihr.ac.uk/infrastructure/Pages/default.aspx

The Government's Plan for Growth:
The Healthcare and Life Sciences section of the Plan for Growth highlights that health research, including the NIHR Biomedical Research Centres and Units, has a key role in the national economy as well as in improving health and care.
http://www.nihr.ac.uk/files/pdfs/2011budget_PlanforGrowth[1].pdf
For latest news and information from Downing Street visit: http://www.number10.gov.uk
Published 18 August 2011