Press release
Reappointments to National Forest Company
Anthony Hams OBE has been re-appointed to the National Forest Company for three years.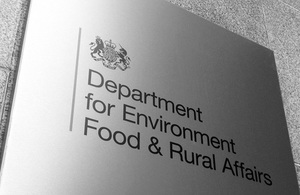 Minister of State for Agriculture and Food David Heath has today announced the re-appointment of Anthony Hams OBE to the National Forest Company for three years. Robin Pellew and David Nicholls have also been reappointed for one year.
Biographical details
Anthony Hams OBE has a strong background in planning, conservation and sustainable development issues. He is the current Chair of Derbyshire Wildlife Trust and Chair of East Midlands Biodiversity Partnership. He is a former Chair of the Peak District National Park.
David Nicholls has set up a new charity that aims to promote local wildlife and wild places – "NatureSpot". He is a Green Officer for Leicestershire County Council and was a former Chief Executive of Groundwork Leicester and Leicestershire. He has a life-long passion for wildlife and the natural environment.
Robin Pellew is a former Chief Executive for National Trust for Scotland and WWF-UK (World Wildlife Fund). Robin is an independent conservation/heritage consultant. He is a Trustee of the Cambridge Preservation Society.
The National Forest Company is a non-departmental public body, established in 1995 to lead the creation of The National Forest in the English Midlands. To date over eight million trees have been planted which has resulted in woodland cover increasing from six per cent to nearly 19 per cent across the 200 square miles covered by the Forest.
These reappointments have been made in accordance with guidance issued by the Office for the Commissioner for Public Appointments (OCPA). Political activity plays no part in the selection process.
Further information on the National Forest Company may be found at www.nationalforest.org
Published 8 April 2013
Last updated 9 April 2013
+ show all updates
Changed National Forestry Company to national Forest Company.
First published.