Press release
Reappointment of Chief Executive of the Medical Research Council for 2016 to 2018
Universities and Science Minister announces the reappointment of Professor Sir John Savill as Chief Executive of the Medical Research Council.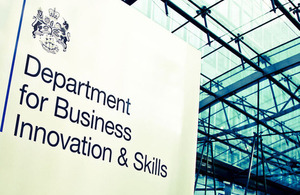 Universities and Science Minister Jo Johnson today (30 November 2015) announced the reappointment of Professor Sir John Savill as Chief Executive of the Medical Research Council (MRC).
Universities and Science Minister Jo Johnson said:
I am very pleased to reappoint Sir John Savill for a further term as Chief Executive of the MRC. With his extensive experience as a highly-regarded clinician and academic scientist he will continue to bring strong leadership to the MRC and its aim to support the UK's world-leading medical science.
Donald Brydon, Chair of the MRC said:
Sir John has been an outstanding Chief Executive of the MRC and I am delighted that his term of office has been extended. His focus on measuring the benefits of research and his clarity of strategy have helped maintain Britain's leading position in medical research.
Sir John Savill said:
There has never been a more exciting time in UK medical research, with partnership initiatives such as the Farr and Crick Institutes promising remarkable long-term gains in health and wealth. It will be a privilege to serve the MRC as it works with patients, investigators, funders, industry and government to discover new approaches to the grand challenges faced by our society.
The appointment is from 1 April 2016 until 30 September 2018.
The MRC is a national funding agency dedicated to improving human health by supporting research across the entire spectrum of medical sciences. In the 2015 Spending Review, the government protected science funding of £4.7 billion in real terms over the Parliament. This will include a new £1.5 billion Global Challenges Fund.
Notes for Editors
The Medical Research Council is at the forefront of scientific discovery to improve human health. Founded in 1913 to tackle tuberculosis, the MRC now invests taxpayers' money in some of the best medical research in the world across every area of health. Thirty-one MRC-funded researchers have won Nobel prizes in a wide range of disciplines, and MRC scientists have been behind such diverse discoveries as vitamins, the structure of DNA and the link between smoking and cancer, as well as achievements such as pioneering the use of randomised controlled trials, the invention of MRI scanning, and the development of a group of antibodies used in the making of some of the most successful drugs ever developed. Today, MRC-funded scientists tackle some of the greatest health problems facing humanity in the 21st century, from the rising tide of chronic diseases associated with ageing to the threats posed by rapidly mutating micro-organisms.

Professor Sir John Savill BA, MBChB, PhD, FRCP, FRCPE, FASN, FMedSci, FRS, FRSE, a clinician scientist from Edinburgh, took up the position as chief executive and deputy chair on 1 October 2010. The appointment was initially for 3 years; after which it was extended until April 2016. He was a member of the Council from 2002 to 2008 and chaired 2 Research Boards during this period. Between 2008 and 2010 John worked part-time as the chief scientist for the Scottish Government Health Directorates. He was knighted in the 2008 New Year Honours List for services to clinical science. John started his research career with a degree in Physiological Sciences from Oxford University in 1978, followed by degrees in Medicine at the University of Sheffield in 1981. He received a PhD from the University of London in 1989. After junior hospital appointments in Sheffield, Nottingham and London, he spent 7 years in the Department of Medicine at Hammersmith Hospital with spells as an MRC clinical training fellow and Wellcome Trust senior clinical research fellow. In 1993, he moved to the chair of medicine, at the University of Nottingham, then in 1998 became professor of medicine at the University of Edinburgh, where he was the first director of the University of Edinburgh/MRC Centre for Inflammation Research, directing a group interested in the molecular cell biology of renal inflammation. In 2002, John was appointed as the first vice-principal and head of the College of Medicine and Veterinary Medicine, University of Edinburgh. He retains an ongoing, research active involvement with the University of Edinburgh part time throughout his appointment as MRC chief executive.
Published 30 November 2015