Press release
Preliminary findings on Azerbaijan Presidential Election
FCO Minister for Europe David Lidington shares concerns voiced by ODIHR on conduct of Presidential election in Azerbaijan.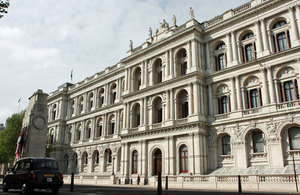 The Office for Democratic Institutions and Human Rights (ODIHR) and Organization for Security and Co-operation in Europe (OSCE) have released a statement of prelimary findings and conclusions on the Presidential election in Azerbaijan.
Mr Lidington said:
I note the preliminary findings of the joint OSCE/ODIHR and OSCE Parliamentary Assembly Election Observation Missions on Azerbaijan's Presidential elections. While this report recorded some positive aspects, such as the Central Election Commission's efficient technical preparations and the inclusive process of citizen observation, it also highlighted a number of serious concerns. These included limitations on the freedom of expression, assembly and association; allegations of intimidation of candidates and journalists during the campaign, and significant problems on election day itself.

While I welcome the positive aspects of the report and the peaceful conduct of voting, I share ODIHR's concern that overall conduct of the elections fell short of full adherence to Azerbaijan's OSCE commitments. I look forward to seeing the Mission's final report and encourage the Azerbaijan Government to work with OSCE/ODIHR to implement its recommendations.

Azerbaijan is an important partner for the UK, and the UK Government stands ready to support Azerbaijan in its continued democratic transition.
Further information
Follow Foreign Office Minister David Lidington on twitter @DLidington
Follow the Foreign Office on twitter @foreignoffice
Follow the Foreign Office on facebook and Google+
Published 11 October 2013