Press release
Rarer cancers with unknown primary tumours diagnosed too late
More being done to improve earlier diagnosis shows research by PHE's National Cancer Intelligence Network (NCIN).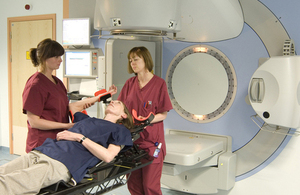 More than half (57%) of newly diagnosed cases of Cancer of Unknown Primary (CUP) - around 25,000 in England between 2006 and 2010 - presented as an emergency compared to 23% for all cancers, shows new research by Public Health England's National Cancer Intelligence Network (NCIN).
The 1-year survival rates for all CUP patients included in the Routes to Diagnosis study is 16%, which is low compared to most other cancer types. CUP tumours presenting as an emergency - including from A&E or emergency referral from a GP - have the lowest survival of all the routes to diagnosis, whereas CUPs presented through managed routes, for example, the Two Week Wait, have significantly better survival. The age of patients presenting with CUP also impacts survival; nearly 40% of the 44,100 cases of CUP diagnosed in England during the same period were aged 80 years and over.
People are recorded as having Cancer of Unknown Primary if the primary site of the cancer growth cannot be established or if the tumour has been registered without specification of site. Usually, patients present with metastatic disease (cancer that has spread) and all subsequent investigations have failed to determine the origin of the tumour.
Dr. Mick Peake, Clinical Lead at Public Health England's NCIN, said:
These further developments of our Routes to Diagnosis study include data on all patients diagnosed over a 5-year period, covering 1.3 million tumours. It gives us a clearer understanding of CUP diagnoses which had not previously been examined. There are many reasons why it is difficult to prove the source of the primary cancer, sometimes it is just too difficult to get a piece of tissue for analysis, but there are some cancers where despite every test, it is not possible to be sure where the cancer started.

This information gives us a first look at the routes to diagnosis for CUP patients and enables us to understand more about this rarer type of cancer so we can begin to find ways to improve diagnosis, earlier treatment and survival rates.
Sean Duffy, National Clinical Director for Cancer at NHS England said:
Almost 10% of all cancer cases which presented as emergencies are 'cancer of an unknown primary'. Currently, referral systems for generic investigation of this rarer form of cancer are poorly developed, which is why we've broadened the range of symptoms and enabled more patients to be referred with non-specific symptoms to help increase earlier diagnosis. CUP multi-disciplinary teams are also being created to ensure patients diagnosed with CUP receive the most appropriate treatment, which will improve survival outcomes. However, there is still a lot more which needs to be done to examine the large proportion of CUP patients presented as emergencies and the clinical basis of the diagnosis of CUP.
John Symons, Director of the Cancer of Unknown Primary (CUP) Foundation, said:
This research encourages patients and their loved ones to know that CUP is being addressed and it helps clinicians to recognise and understand the disease. We hope that the improvements in the management and treatment of CUP patients, starting to become apparent following the introduction of the NICE Guideline on CUP in 2010, will be stimulated further by this authoritative study.
Ends
Notes to editors
Emergency presentation routes include diagnosis from A&E and emergency GP referrals resulting in consultant outpatient referral, transfer, admission and attendance. Managed routes include Two Week Wait or through regular GP referrals. The Two Week Wait is when all patients referred with suspected cancer by their GP have a maximum wait of 2 weeks to see a specialist. This also applies to all patients referred for investigation of breast symptoms, even if cancer is not initially suspected.

The majority of these emergency presentation patients are diagnosed through 2 subgroups; A&E (62%) or an emergency referral from a GP (32%). For all cancers, this is the same proportion admitted through A&E and varies slightly through emergency GP referral (28%). Overall, CUP patients account for 9% of all cancer cases presented as emergencies, compared to 21% for lung and 13% for colorectal cancers.

NCIN's 'Routes to Diagnosis: Cancer of Unknown Primary' data briefing is available from the NCIN website.
The data is based on all cancer diagnoses in England between 2006 and 2010.
See more information about NCIN's Routes to Diagnosis project.

See more information about NCIN's Cancer of Unknown Primary.

For information about the national cancer strategy, please visit NHS Choices' cancer pages.

About the National Cancer Intelligence Network (NCIN), operated by Public Health England: The NCIN was established in June 2008 to coordinate the collection, analysis and publication of comparative national statistics on diagnosis, treatment and outcomes for all types of cancer. The NCIN is a UK wide partnership funded by multiple stakeholders. The NCIN will drive improvements in the standards of care and clinical outcomes through exploiting data. The NCIN will support audit and research programmes by providing cancer information and patient care will be monitored through expert analyses of up-to-date statistics.
For more information please visit www.ncin.org.uk and www.gov.uk/phe
NHS England is the Executive Non-Departmental public body responsible for overseeing the running of the NHS. It aims to improve the health of the people in England by working in an open, evidence-based and inclusive fashion, keeping patients at the heart of everything it does.
For further information, please email the NHS England media team: nhsengland.media@nhs.net or call 07768 901293.
Our mission is to 'Make the Unknown, Known' by:
Providing information and support to CUP patients and those who care for them
Raising awareness of CUP
Promoting improved diagnosis and treatment
Undertaking, encouraging and supporting CUP research
Registered Charity Commission number 1119380.
Public Health England's mission is to protect and improve the nation's health and to address inequalities through working with national and local government, the NHS, industry and the voluntary and community sector. PHE is an operationally autonomous executive agency of the Department of Health.
www.gov.uk/phe Follow us on Twitter @PHE_uk
Public Health England Press Office
Published 23 January 2014