News story
RAF Voyager now operating Afghanistan flights
Two RAF Voyager aircraft have begun flying between the UK and southern Afghanistan, months ahead of schedule.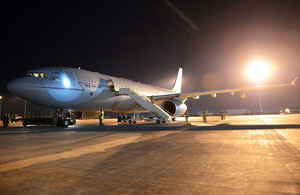 Service personnel returning home from Afghanistan this Christmas are the first to fly all the way from Camp Bastion to Brize Norton on board the RAF's new Voyager aircraft.
The Voyagers are supporting the operational airbridge that transports all personnel to and from theatre.
A converted Airbus A330 aircraft that has been specially adapted for a military role, Voyager gives passengers heading home for R&R (rest and recuperation) or at the end of their tour more space and greater comfort for the long journey between Afghanistan and the UK.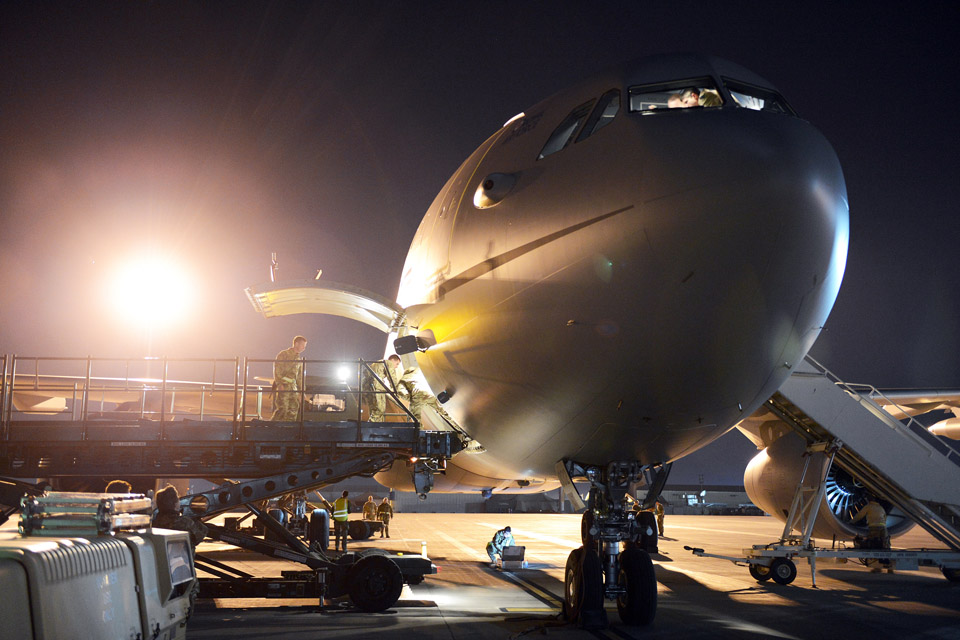 The multi-role aircraft is more efficient and more capable than the Tristar fleet it will eventually replace.
Voyager is capable of carrying:
300 passengers over a 6,000 mile (9,700km) range

111 tonnes of fuel , some of which is used for the air-to-air refuelling of RAF Tornados and Typhoons

Up to 40 stretchers and critical care facilities for medical evacuations; or

43 tonnes of cargo.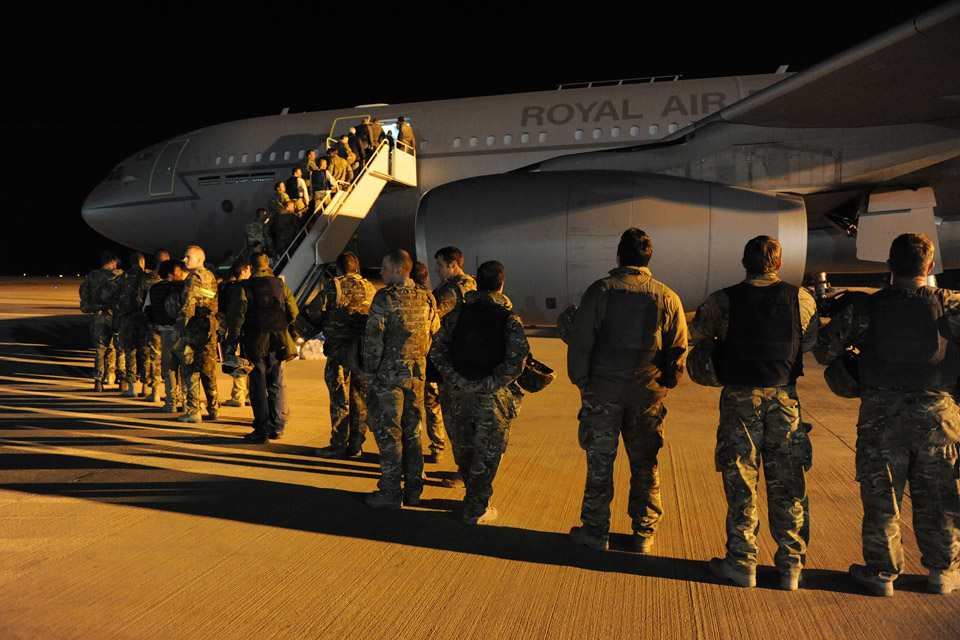 Pictures released today show personnel boarding the aircraft at Camp Bastion and returning home to the UK in time for Christmas.
Major Peter Jennings, who is currently on operations in Afghanistan, said:
I've missed my family whilst away, it's fantastic to be going home to spend Christmas with them. Being away puts life in perspective and as the saying goes, 'absence makes the heart grow fonder'. I am now looking forward to spending quality time with my family.

Having previously flown on different RAF aircraft, they do not compare to Voyager – it's streets ahead!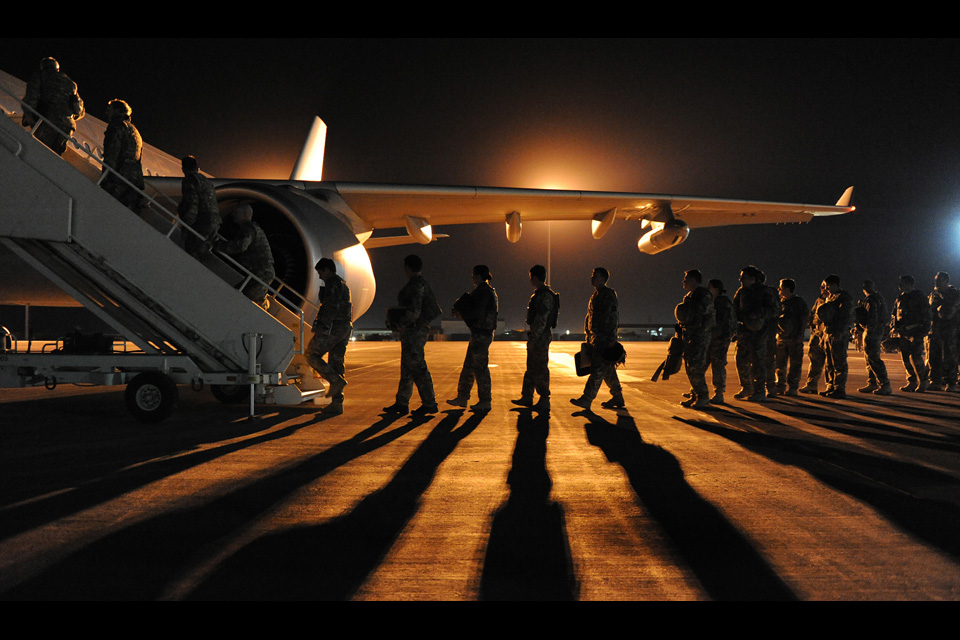 Minister for Defence Equipment, Support and Technology, Philip Dunne, said:
Voyager is testament to our commitment to provide world-leading equipment for our Armed Forces.

Voyager's greatest strength is its versatility. Not only can troops now have a more comfortable and reliable journey to and from operations, the aircraft can also refuel our fighter jets and in future will support humanitarian aid efforts.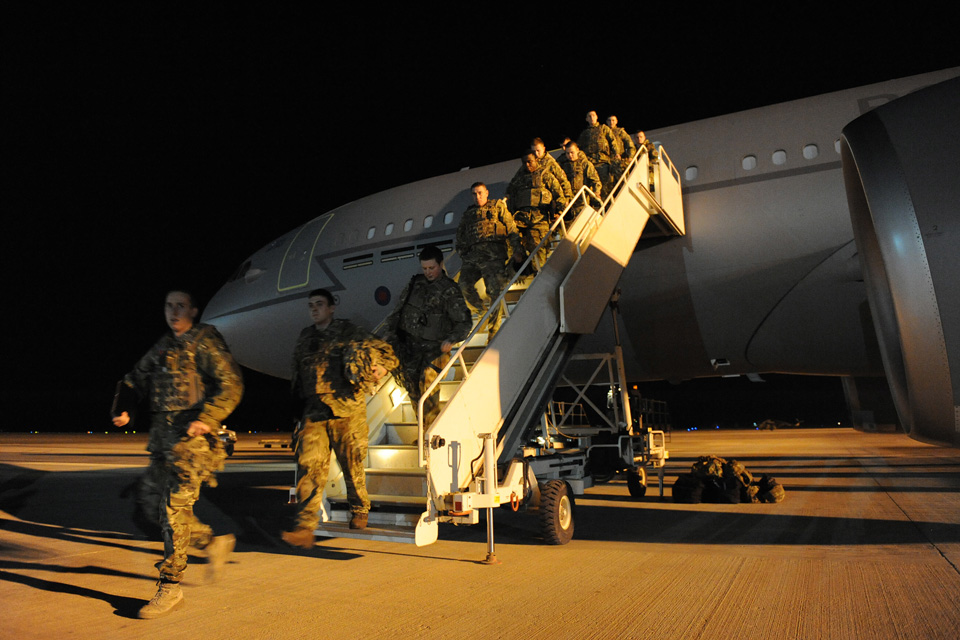 Wing Commander Ronnie Trasler, 101 Squadron's Commanding Officer, said:
Voyager performs its air transport role with great reliability. 101 Squadron's new role in support of the forthcoming drawdown and bringing troops to and from Afghanistan is a further development of the aircraft's operational capability.
Six aircraft are already in service with the RAF and the core fleet of 9 aircraft are on track to be in service by May 2014.
VIDEO: Voyager spreads its wings on first flight to Afghanistan
Published 20 December 2013