RAF Typhoons return from Libya operations
After six months and one day supporting the UK mission over Libya as part of Operation ELLAMY, RAF Typhoons have left Gioia del Colle in Italy and returned to the UK.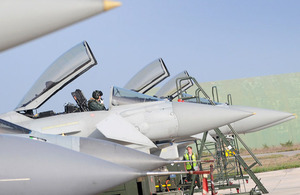 The return of the aircraft is part of the strategy to optimise the air contribution to the current and future campaign which the RAF continues to fully support with 16 Tornado GR4s.
Typhoon missions over Libya have taken place 24-hours-a-day, seven-days-a-week, in all weathers, since the operation began in March 2011 and the Typhoon Squadrons have clocked up over 3,000 flying hours.
Officer Commanding 906 Expeditionary Air Wing, Group Captain Squires, commented on the Typhoon's vital contribution to the operation:
The Typhoon's contribution to enforcing the UN Resolution to protect the Libyan civilians has been immense.
From the Prime Minister's initial direction for the UK military to help the deteriorating Libyan situation, the Typhoons were overhead Tripoli in a matter of days and have been operating over Libya day and night ever since, applying relentless pressure against Gaddafi's forces, denying them the ability to brutally oppress their people.
The skill, determination and professionalism of the pilots and engineers alike, combined with the potent capability of an aircraft which can switch from air to ground and air to air tasking in a moment's notice has been exceptional and earned them a superb reputation within NATO.
The Typhoon force can return home extremely proud of their immense contribution to NATO's Operation UNIFIED PROTECTOR.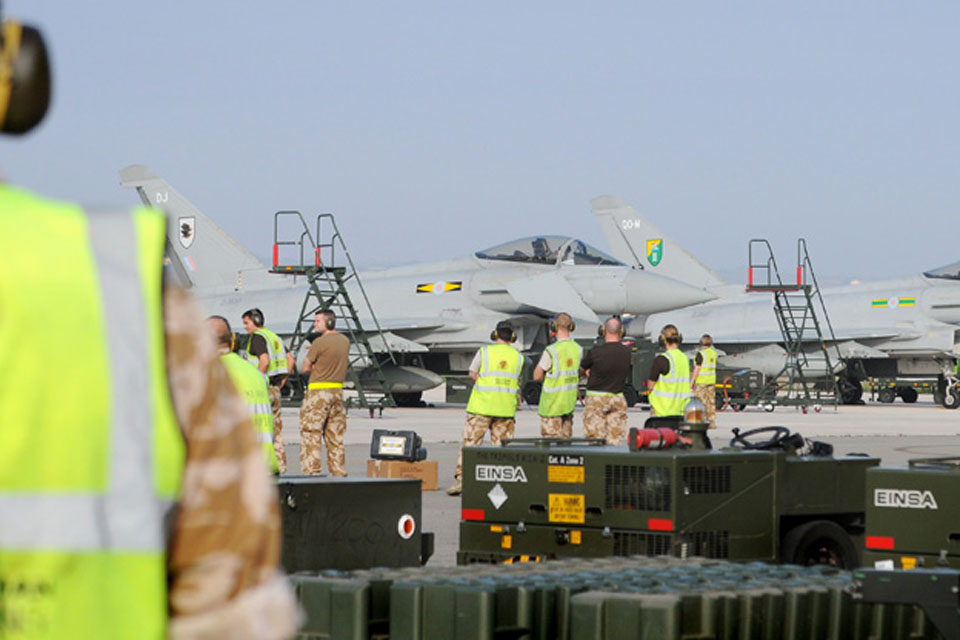 Taking over the reins from XI Squadron in June 2011, Officer Commanding 3 Fighter Squadron, Wing Commander Patounas, reflected on their time in theatre:
The key thing in all of this is the Libyan people; we've been acting in support of them. At the beginning of this campaign you had a dictator with an iron fist on a nation, but now hopefully the Libyan people can start to find their own feet.
That's massively satisfying and it's been an absolute privilege to be a part of that.
In order to protect the civilian population Typhoon and Tornado aircraft have been used in both a reconnaissance role and for carrying out precision strikes on military targets across Libya.
Wing Commander Patounas described the scale of a regular sortie, which could sometimes be up to seven hours long:
To give you an idea of the distances we were covering; every sortie over Libya is the equivalent of launching from Oslo, flying to London, looking for a target, finding one and striking it.
Then flying to Paris to look for another target before flying to Luxembourg to do exactly the same and then flying back to Oslo to land.
Despite the return of the Typhoons, RAF Tornados continue to mount pressure on forces loyal to the former regime in Libya and have again taken effective action in recent days against former regime troops fighting in the Libyan city of Sirte.
Early on the morning of Friday, 23 September 2011, RAF Tornado GR4s were tasked by NATO to neutralise the threat posed by a large barracks and ammunition facility, which was playing a key role in sustaining those forces who continue to serve Colonel Gaddafi in Sirte.
Sixteen GPS guided Paveway bombs were used to engage multiple targets within the location.
On Saturday morning, a formation of Tornadoes conducted a precision strike on a radar installation and bunkers at a large military base in Sirte, destroying their targets with direct hits from Paveways.
An armed reconnaissance patrol successfully engaged heavy weapon positions in the same area, while a third formation later in the day also inflicted damage on an ammunition storage facility.
Since the start of military operations on 19 March 2011, Royal Navy, Royal Air Force and Army Air Corps strikes have damaged or destroyed some 990 former regime targets that presented a threat to the Libyan people.
Published 26 September 2011