News story
RAF delivers much needed JCBs to the Philippines
The RAF's C-17 aircraft has arrived in the Philippines bringing much needed equipment to the typhoon-battered islands.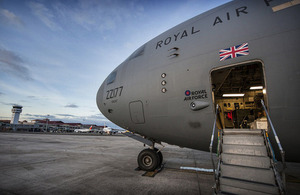 The aircraft from 99 Squadron touched down at Cebu Airport after its mammoth 25-hour trip from RAF Brize Norton carrying 3 rough-terrain JCBs.
British Ambassador to the Philippines, Asif Ahmad, said:
The arrival of this equipment means that the promises the British government made to the people of the Philippines have become real.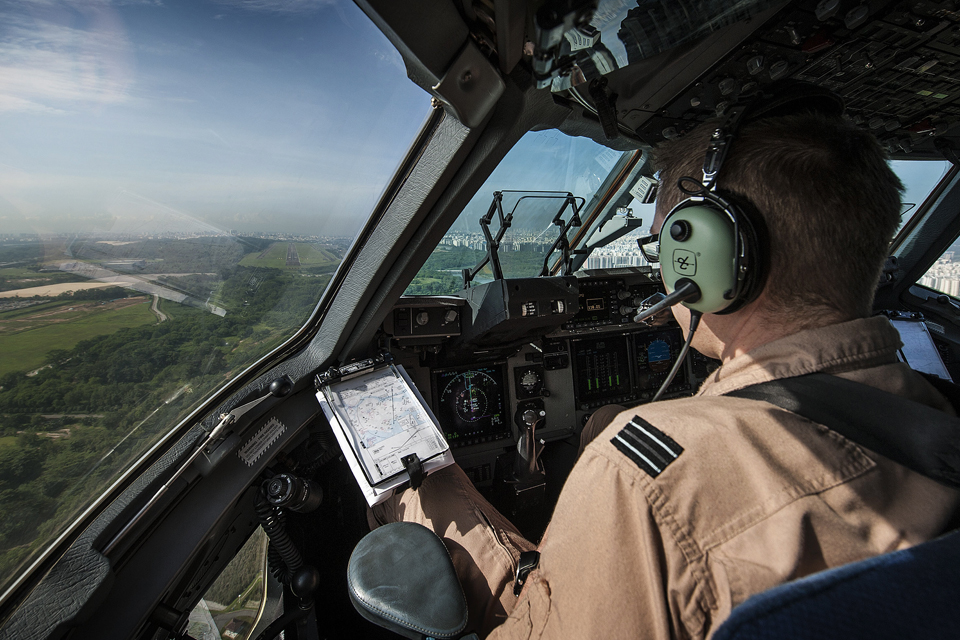 Mr Ahmad stressed that although a lot of medicine and food had arrived from across the world, what was lacking was machinery to unblock roads to allow aid to get to where it is most needed.
He added that red tape for the landing of the C-17 had been swept aside by the islands' head of state, President Aquino, who gave the RAF's mission his personal seal of approval.
Representing the president at the airfield was General Roy Deveraturda, the region's senior military commander, who thanked the RAF and the British people for their contribution to the disaster relief operation.
RAF C-17 brings equipment to Philippines
Your country's response has been overwhelming," he said. "We will always remember these gifts with gratitude.

The problems left by the typhoon will stay with us for a long time and we will continue to require a lot of resources.

I cannot thank the RAF and the British people enough for their efforts.
The 3-star general had already earmarked 3 'substantially damaged' regions – Aklan, Capiz and Iloilo – where the 3 JCBs would make a real difference.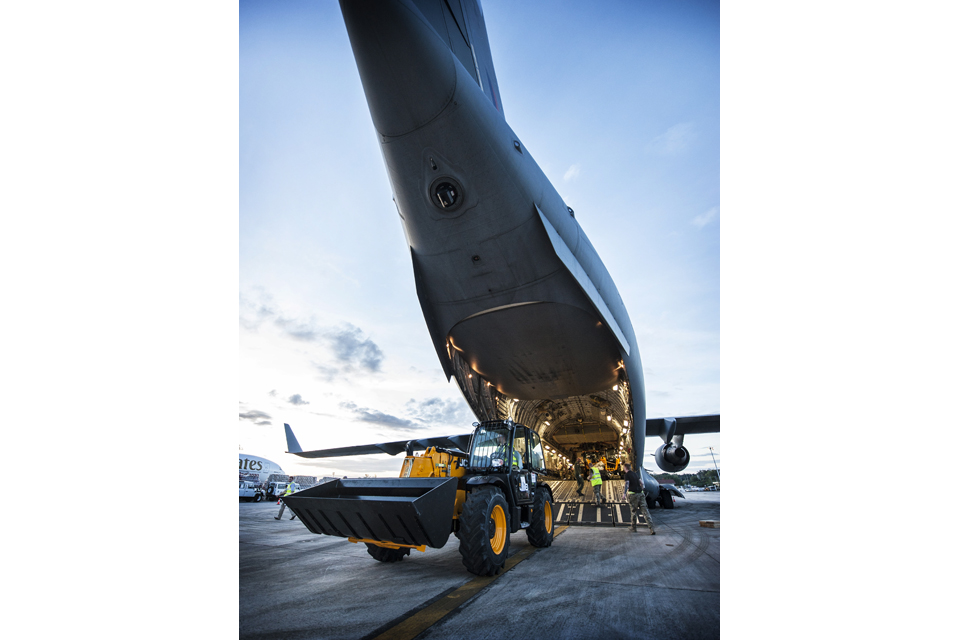 The last leg of the C-17's 3-stage trip started in Singapore where its captain, Squadron Leader David Blakemore, took off with the aircraft 'close to its maximum weight'.
He said:
It's great to provide a significant lift to the islands and the C-17 was brought in for this kind of job.
The vehicles, driven off the aircraft by Corporal Darren Pollard of the RAF Wittering motor transport section, were handed over to representatives of the UK's Department for International Development.
Its spokesperson Gemma Blackburn said:
It is incredible that we have come together with the RAF for this kind of project. These vehicles are ideally suited to the logistics of aid and are the first of their kind brought in.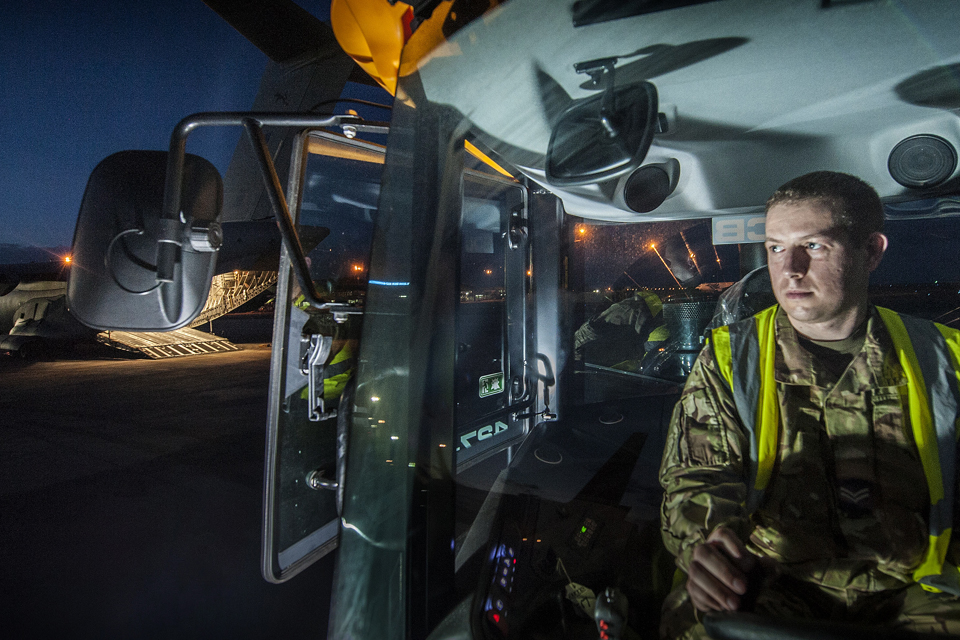 The unloading of the JCBs, two Defender Land Rovers and pallets of medical supplies was done in 1-and-a-half hours by 3 airmen from No 1 Air Mobility Wing based at RAF Brize Norton.
Other personnel on the flight included 4 RAF policemen, a medical officer of the Deployable Aeromedical Response Team Squadron and an environmental health technician. Further trips by the C-17 and a C-130 have been planned.
Find out more about how the UK is helping the people of the Philippines that have been affected by Typhoon Haiyan.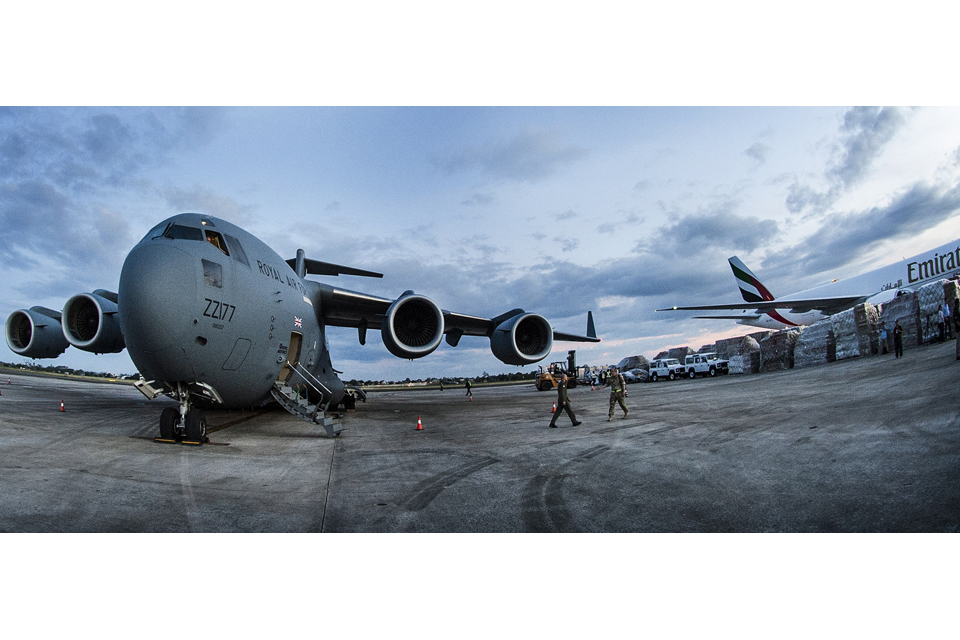 Published 18 November 2013