Case study
Learning how to stay safe in a disaster
How UK aid funded training helped families in the Philippines stay out of danger when Typhoon Haiyan struck.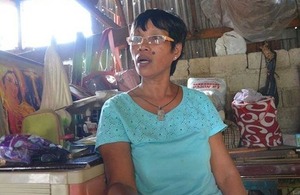 One month before Typhoon Haiyan tore a path through Cebu in the Philippines, Ofelia Aparri's home was damaged by an earthquake - its concrete walls crumbling under the strain.
We were very scared. We could hear the wind roaring. I was not the only one affected. Many of my neighbours were affected too. Roofs and walls were all blown away.
Preparing for the worst
Ofelia Aparri lives in the informal settlement of Sitio Buran in Brgy Sawang Calero, Cebu City. After the earthquake, her family took part in some disaster risk reduction training through Christian Aid parter FORGE.
The training taught them how to stay safe if another major disaster struck. Just 4 weeks later Typhoon Haiyan hit the Philippines, affecting more than 9 million people - including Ofelia.
The training we received was not wasted because we were all able to apply what we learned," says Ofelia.

We learnt how to keep ourselves safe. We evacuated immediately. We went to the evacuation centre in the Cebu City Sports Complex.
Saving belongings
In emergencies, many families worry about leaving their belongings behind. It is all they own and many people risk their lives to protect their family assets. However, for Ofelia, this time was different.
This time we didn't hesitate to evacuate because they assigned guards to secure our belongings. The village officials and the volunteers served as roving guards. We evacuated immediately since our belongings were secured.

Despite the hardship we felt in the camp, we know that those in Tacloban had it worse. We were affected by the typhoon but we thank the Lord that we were not as badly hit. We have now decided that we will try to help those in Tacloban who were more devastated.
Protecting the vulnerable
Christian Aid's work in the Philippines is supported by the UK government through a Programme Partnership Arrangement. Christian Aid - through FORGE - works with communities in Cebu City and Mandaue City that are extremely vulnerable to risks and disasters such as typhoons, floods, fire and earthquakes.
In addition to training them how to organise their community to prepare for and prevent disaster, FORGE also supports them to tackle the issues that make them vulnerable in the first place.
As Ofelia's story demonstrates, this work is both vital and very effective, and the key to its success is the ability of communities, local organisations and local authorities to work together to address, prepare for and respond to the different kinds of risk they face.
To find out how the UK government is helping people affected by Typhoon Haiyan visit: www.gov.uk/government/news/typhoon-haiyan-latest-updates-on-uk-aid
Published 19 November 2013