News story
Radon tests available soon for 2,000 homes across central Scotland
The radioactive gas occurs naturally and is present in all buildings all over the UK. It cannot be seen, smelled or tasted - but each year is believed to lead to over 1,000 lung cancer deaths.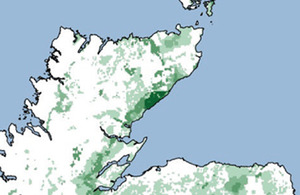 For years radiation scientists have been running radon awareness and testing campaigns in Scotland and soon around 2,000 households will receive letters offering them a free test, in a project funded run by experts at Public Health England and the Scottish Government.
Public Health England is the official adviser to all arms of the UK Government, including the devolved administrations, on the health effects of radiation.
In 2011 we produced a map, with the British Geological Survey, which identified areas of Scotland's central belt with a higher than previously thought potential for high levels of radon,
said Neil McColl, head of radon at PHE's Centre for Radiation, Chemicals and Environmental Hazards (CRCE).
This was because for the first time it combined our historic measurements with geology data to give us a clearer picture of the potential risks in each area. Because of the findings of that work we are writing, in the coming weeks, to around 2,000 households to offer a free radon test. These households are across the City of Edinburgh, Mid Lothian, East Lothian, Falkirk, West Lothian, East Renfrewshire, South Lanarkshire.
Domestic radon testing involves placing 2 plastic detectors, about the size of a biscuit, in key positions around the home. After 3 months the detectors are posted to PHE where they are analysed and the radon level is calculated. If levels are high scientists will recommend householders take steps to reduce levels with local advice sessions planned to help provide to give them the information needed.
Mr McColl added:
We would expect that less than 1 in 10 of those who test will actually have high radon levels – but it's only by testing that people will know if they need to take steps to protect their health.
For more information about radon visit ukradon.org
Published 5 June 2013