News story
Radio adverts launched to help safeguard flooding clean-up operation
Public Health England has produced a pair of radio adverts with health advice on cleaning up safely after flooding.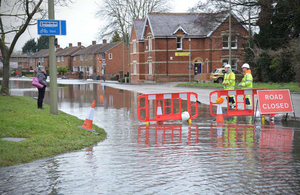 As the flood water starts to subside in some areas of the country, many people whose homes and businesses have been flooded will be starting to think about cleaning up.
Two 30 second radio adverts, produced by Public Health England (PHE), contain key messages on how people can stay safe and well when cleaning up. The adverts are being broadcast for 2 weeks on commercial radio stations in areas affected by the recent flooding and are also available to listen to from the Audioboo website.
Messages highlighted include the serious danger posed by carbon monoxide fumes from the indoor use of generators to dry out buildings. Petrol or diesel generators should never be used inside – the exhaust fumes contain carbon monoxide which can kill.
It is also important to try and avoid accidentally swallowing floodwater as the bacteria it contains can cause infections with symptoms of diarrhoea, fever or abdominal pain. There are, however, a number of simple precautions people can take to reduce the risk of illness, such as wearing the right clothing – rubber boots and waterproof gloves – and always thoroughly washing hands with warm soapy water after each clean-up session.
In addition, over the past few weeks, thousands of leaflets on staying safe before, during and after flooding have been made available by PHE to the public through Local Authorities and other partners. We are now supplementing these with 10,000 new clean-up leaflets, specially laminated, for use by homeowners in flooded properties, as they start the clean-up operation.
Dr Paul Cosford, director for health protection and medical director of PHE, said:
Over the past few months PHE staff across our regions and centres have been working closely with local responders to ensure communities affected by the flooding have the information they need about how they can reduce risk of illness or harm.

We want to continue to do as much as we can to ensure these messages are heard and these radio adverts and leaflets will help reach those in affected areas and provide essential advice about cleaning up safely, and avoiding hazards that can be caused by faulty gas or electrics and potential dangers from carbon monoxide poisoning.
Read the guidance on how to clean up your home safely if you have been flooded.
PHE has compiled guidance for frontline responders on clean-up and recovery.
See the advice leaflet on what to do before, during and after a flood, produced by PHE in collaboration with the Environment Agency.
Read PHE's advice on the psychological impacts of flooding.
Get answers to frequently asked health questions about flooding.
Infections arising as a result of floodwaters in this country are rare as usually any harmful bugs in floodwater become very diluted, reducing the risk of infection.
Published 20 February 2014