Radical reforms for social housing
Plans for the most radical reform of social housing in a generation have been announced by communities ministers.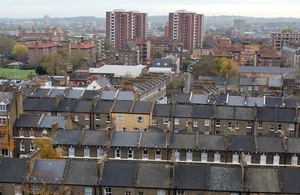 Power shift
The changes will bring a fundamental shift of power from Whitehall to councils and local housing associations.
Housing Minister Grant Shapps said the current centrally-determined rules to allocate social homes are unfair and, despite £17 billion of investment in new social housing over the last 13 years, have caused the number of people on waiting lists to nearly double to 5 million people, while 250,000 social homes remain overcrowded, and 400,000 under-occupied.
Councils will now be given more flexibility to use their social housing stock to the maximum effect and drive down waiting lists, which currently stand at 5 million people. Housing Associations will also be given the option to offer new affordable rents and use this revenue to build more affordable homes.
Fairness and flexibility
Proposals have been published to make the system fairer. Councils will have greater local discretion to decide allocations and the option to offer flexible tenancies.
Councils will also have more flexibility to help homeless families and existing tenants who may be trapped in unsuitable accommodation, or who are unable to take up a job offer because they can't move.
The rules will strike a sensible balance between the needs of new and existing tenants, and ensure the support that social housing provides is focussed on the most vulnerable and those who need it most, for as long as they need it.
Housing Minister Grant Shapps said:
"For far too long in this country there has been a lazy consensus about the use of social housing, which has left 1 of our most valuable resources trapped in a system that helps far fewer people than it should.
"The new system will protect the most vulnerable in society, ensuring those in greatest housing need are given priority. It will also be more flexible, with councils and housing associations able to offer fixed tenancies that give people the helping hand they need, when they need it. But above all it will be fairer - councils will now be able to make decisions that genuinely meet the needs of local people, and the changes will not affect any existing tenants."
Communities Minister Andrew Stunell said:
"To have 5 million people stuck on social housing waiting lists is unacceptable - clearly this system is broken and needs a radical overhaul.
"We need to have a much smarter system that protects lifetime tenancies, but also provides the flexibility to ensure that help is targeted at people who really need it, and enables us to get more for every pound of taxpayers' money. In times of economic hardship, it is vital that social housing is effective in helping people get back on their feet."
Published 22 November 2010