News story
Honours recipients in the education sector announced
In total, 108 people received awards from across the Department for Education's spectrum of responsibility.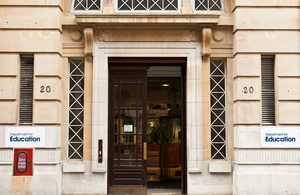 The Queen's birthday honours list was published on Friday 14 June.
Chris Wormald, Permanent Secretary at the department, commended all of the recipients:
I want to congratulate everyone from across the department's sphere of responsibility who have had their outstanding services recognised in the birthday honours list. Their contribution is helping every child and young person to fulfill their potential, whatever their background or circumstances.
| Award | Forename | Surname | Short citation |
| --- | --- | --- | --- |
| Kt/DBE | Sue | Bourne | Headteacher, The Avenue School, Reading, For services to Education |
| Kt/DBE | David | Carter | Executive Principal, Cabot Learning Federation. For services to Education |
| Kt/DBE | Ken | Gibson | Executive Headteacher of Harton Technology College and Jarrow School, South Tyneside. For services to Education |
| Kt/DBE | Greg | Martin | Executive Head, Durand Academy, Lambeth. For services to Education |
| Kt/DBE | Dana | Ross-Wawrzynski | Executive Headteacher, Altrincham Grammar School for Girls. For services to Education |
| Kt/DBE | Anthony | Salz | For voluntary service to Young People and Public Life |
| CB (Order of the Bath) | Ann | Gross | Director of Early Years and Extended Schools and Special Needs Group, Department for Education. For services to Special Education and Social Care |
| CBE (Order of the British Empire) | John | Atkins | Chief Executive Officer, The Kemnal Academies Trust. For services to Education |
| CBE | Vicky | Beer | Headteacher, Ashton on Mersey School, Trafford. For services to Education |
| CBE | Pamela | Chesters | Lately Chair, Action for Children. For services to Vulnerable Children |
| CBE | Graham | Dacre | Founder and Chair, OPEN Youth Trust and Lind Trust. For charitable services to Young People |
| CBE | Frank | Green | Chief Executive of Leigh Academies Trust. For services to Education |
| CBE | Carol | Homden | Chief Executive, Thomas Coram Foundation for Children. For services to Children and Families |
| CBE | Neil | McIntosh | Chief Executive Officer, CfBT Education Trust. For services to Education |
| CBE | Anthony | Tomei | Lately Director, the Nuffield Foundation. For services to Education |
| CBE | Teresa | Tunnadine | Headteacher, the Compton School, London Borough of Barnet. For services to Education |
| OBE | Adesola | Adetosoye | Lately Divisional Director, Children and Young People's Services, Lambeth Council. For services to Children and Young People |
| OBE | Anne | Bull | Headteacher, Weston All Saints CoE Primary School, Somerset. For services to Education |
| OBE | Norman | Cooke | Lately Headteacher, Cloughside College, Prestwich, Manchester. For services to Education |
| OBE | Kay | Dimelow | Headteacher Huntingdon Nursery School and Director of Huntingdon Town Children's Centre. For services to Education |
| OBE | Pauline | Gavin | Headteacher, St Bartholomews Church of England Primary School, Leeds. For services to Education |
| OBE | Patrick | Heisel | Head of Bureaucracy Reduction for Schools, Department for Education. For service to Education and Diversity and voluntary service through the Special Constabulary |
| OBE | Sylvia | Libson | Executive Headteacher, Furness Primary and Oakington Manor Primary Schools. For services to Education |
| OBE | David | Martin | Designer, Interactive Smart Board and Executive Chairman, SMART Technologies Inc. For services to Education |
| OBE | Sheema | Parsons | Headmistress, St Mark's Square Nursery School, Regents Park, London. For services to Early Years Education |
| OBE | Jean | Pinkerton | Lately Headteacher, Datchet St Mary's CofE Primary Academy. For services to Education |
| OBE | Peter | Posner | For services to the YMCA in the UK and Abroad |
| OBE | David | Rosbottom | Chair of Governors, Winstanley College, Wigan. For services to Education |
| OBE | Leslie | Rose | Patron, Make-a-Wish Foundation UK. For services to Childen and Families |
| OBE | Andrew | Ross | Chief Executive, The Children's Trust. For services to Children |
| OBE | David | Seddon | Principal, Baxter Business and Enterprise College, Worcestershire. For services to Education |
| OBE | Srabani | Sen | CEO, Contact a Familly. For services to Children and Families |
| OBE | Jean | Stogdon | Co-Founder and Co-Chair, Grandparents Plus. For services to Children and Families |
| OBE | Linda | Thompson | Lately Head, Looked After Children's Education Team, London Borough of Ealing. For services to Education |
| OBE | Brenda | Wallace | Lately Headteacher, Gumley House Convent School, Isleworth. For services to Education |
| OBE | Stephen | Webb | Honorary Vice-President, National Association of Clubs for Young People. For services to Young People |
| OBE | Angela | Whelan | Lately Headteacher, St Paul's School for Girls, Edgbaston. For services to Education |
| MBE | Eric | Albone | Director, Clifton Scientific Trust, Bristol. For services to Education |
| MBE | Ivy | Alexander | Social Work Manager, Children and Young People's Services, Lambeth Council. For services to Children, Young People and Families |
| MBE | Sue | Anderson | CEO, Sue Anderson Consultants. For services to Education |
| MBE | Gary | Barnes | Foster Carer and Adoptive Parent, West Sussex. For services to Children |
| MBE | Judith | Barnes | Foster Carer and Adoptive Parent, West Sussex. For services to Children |
| MBE | James | Bennet | Volunteer, The Prince's Trust. For services to Young People |
| MBE | Lewis | Bronze | CEO, Espresso Education, London. For services to Education |
| MBE | Colin | Butler | Volunteer, ChildLine West Midlands. For services to Children |
| MBE | Jennifer | Capstick | Lately Head of Early Intervention Team, London Borough of Hounslow. For services to Education |
| MBE | Ann | Craig | Governor, All Saints CofE VC Primary School, Winchester. For services to Education and the community in Winchester |
| MBE | Andrew | Cuthbert | Founder and President, The Norfolk Boat (Sail Training) Ltd. For services to Young People |
| MBE | Jean | Dorey | Foster Carer, Dorset County Council. For services to Children |
| MBE | Peter | Dorey | Foster Carer, Dorset County Council. For services to Children |
| MBE | Peter | Drake | Founding Member, Young Explorers Trust. For services to Young People |
| MBE | Susan | Edney | Foster Carer, Hertfordshire County Council. For services to Children and Families |
| MBE | Linda | Edwards | Co-Founder and Chief Executive, The Larches Community Charity. For services to Children and Young People |
| MBE | Toni | Gardner | Foster Carer, Guildford, Surrey. For services to Children |
| MBE | Adrian | Giles | Club Leader, Epsom and Ewell PHAB Club. For services to Disabled Children |
| MBE | Julia | Giles | Club Leader, Epsom and Ewell PHAB Club. For services to Disabled Children |
| MBE | Jameel | Hadi | Manager, Participation Through Sport. For services to Young People in the North West of England |
| MBE | Christopher | Hall | Lately Assistant Principal, Joseph Chamberlain Sixth Form College, Birmingham. For services to Education |
| MBE | Ann | Hambly | Head of Special Educational Needs and Advance Skills Teacher at Queen Elizabeth's Grammar School. For services to Education |
| MBE | Karen | Harvey | Leader, Greenacre and Great Yarmouth Children's Centre Leader. For services to Children and Families |
| MBE | Tracy | Haycox | Director of Children and Young People's Services, SAFE@LAST. For services to Children and Young People |
| MBE | Paul | Hughes | Lately Teacher, Queensbury Upper School, Bedfordshire. For services to Education |
| MBE | Peter | Latham | Lately, PE Teacher,Otley, West Yorkshire. For services to Education and Sport |
| MBE | Brian | Lawless | Chair of Governors, Northcote Primary School, Liverpool. For services to Education |
| MBE | Susan | Logan | Foster Carer, East Sussex Council. For services to Children and Families |
| MBE | John | Mellor | Service Manager, CAFCASS. For services to Children, Young People and Families |
| MBE | Maggie | Morgan | Language Teacher, St. Pauls Nursery and Primary School, Brighton and Hove. For services to Education |
| MBE | Marita | Nibbs | Trustee and Home Visiting Volunteer, Home-Start Leicester. For services to Families |
| MBE | Graham | Olway | Chair, National Education Building Development Officers Group. For services to Education |
| MBE | Margaret | Orr | CEO, EMI Music Sound Foundation. For services to Music Education |
| MBE | Ruthie | Phillips | Lately NSPCC Divisional Vice-President, North West. For services to Children |
| MBE | George | Pincus | School Governor, Epsom College. For services to Education |
| MBE | Ian | Pringle | School Governor, Ripon Grammar School and Outwood Academy, Ripon. For services to Education |
| MBE | Richard | Rainbow | Lately Deputy Headteacher, Malorees Junior School, Brent. For services to Education |
| MBE | Kaneez | Shaid | For services to Young People and the Community in East London |
| MBE | Barbara | Slider | Head of School and Deputy Headteacher, Shiremoor Primary School, Newcastle upon Tyne. For services to Education |
| MBE | Sally | Stephens | Service Manager, CAFCASS. For services to Children, Young People and Families |
| MBE | Elizabeth | Tatman | Founder and Chairman, Bolton Toy Library. For services to Children and Families |
| MBE | Pauline | Taylor | Director of Youth Work, UK Youth Charity. For services to Children and Young People |
| MBE | Carolyn | Taylor-Score | Enhanced Practitioner, CAFCASS. For services to Children and Families |
| MBE | Maire | Tejani | EO, Department for Education. For services to Education and for charitable services through Yaarah Schools Charity in Ghana |
| MBE | Avis | Turner | Volunteer, Mencap Gateway Youth Club, Scarborough. For services to Young People |
| MBE | Janet | Vaughan | Headteacher, Canvey Junior School, Essex. For services to Education |
| MBE | Linda | Wainwright | Teacher, Slade Green Infants School. For services to Education and Children with Special Educational Needs |
| MBE | Gary | Warke | Chief Executive, Hull College Group. For services to Education |
| BEM | James | Beswick | Leader, Cheadle Hulme Community Youth Club. For services to Young People |
| BEM | Patricia | Bulmer | Founder and Leader, Elim Toddler Group, Sunderland. For services to Education |
| BEM | Jennifer | Butler | Lately Teaching Assistant, Richard Whittington Primary School, Bishops Stortford. For Services to Education |
| BEM | Janice | Chapman | Brownie and Guide Leader, Groombridge Guide Group, Kent. For services to Young People |
| BEM | Lawrence | Chapman | Youth Club Leader. For services to Young People in Castlethorpe, Buckinghamshire |
| BEM | Michele | Chown | School Cleaner, St Bartholomews School, Somerset. For services to Education |
| BEM | Lynne | Doodney | For services to the Scouts and to the Community of Sherborne, Dorset |
| BEM | Pamela | Eldridge | Independent Member on Fostering Panels, Hertfordshire Social Services. For services to Children and Families |
| BEM | John | Elliott | For services to Young People and to the Community in South Oxhey and Hertfordshire |
| BEM | Trevor | Ford | For services to Special Needs Education |
| BEM | Michael | Gooderson | Group Scout Leader, 17th Holborn Scouts, and lately Chairman, Great Ormond Street Hospital Scout and Guide Project. For services to Young People and to the Community |
| BEM | Arthur | Green | Chairman, 3rd Doncaster Scout Group Executive Committee, Doncaster. For services to Young People and the Community in Doncaster |
| BEM | Carole | Halliday | For services to Young People and the Community of Mevagissey, Cornwall |
| BEM | Peter | Healey | Patron, Blue Coat School Academy, Wavertree, Liverpool. For services to Education |
| BEM | Christine | Leaves | Family and Friends Care Support Group Consultant, Family Rights Group, and Leader Second Time Around Support Group, Peterborough. For services to Children and Families |
| BEM | Barbara | Letchford | Lately Branch and Regional Representative, National Association of Head Teachers, South East Region. For services to Education |
| BEM | June | Rixson | School Crossing Officer. For services to Education and to the community in the London Borough of Croydon |
| BEM | Christine | Rostron | Chair of Governors, Town Green Primary School, Aughton, Lancashire. For services to Education |
| BEM | John | Rudkin | Youth Worker, Tangmere Youth Club, Chichester. For services to Young People |
| BEM | Pamela | Simpson | Lately Girls' Brigade Captain, 1st Colchester Group, and Volunteer Bishop William Ward CofE Primary School. For services to Children and Young People |
| BEM | Pamela | Valler | Youth Worker and Treasurer, Rogate Village Youth Club. For services to Young People |
| BEM | Crin | Whelan | Early Support Coordinator, Penzance and Newlyn Children's Centre. For services to Children and Families |
| BEM | Andrew | Wright | School Police Officer and Project Leader, Nowt2do Scheme. For services to Children and Young People in Greater Manchester |
DfE enquiries
Central newsdesk 020 7783 8300
General enquiries 0370 000 2288
Published 17 June 2013