The Queen's Birthday Honours 2013
The Queen's Birthday Honours lists 2013 are published today to recognise the achievements and service of extraordinary people across the UK.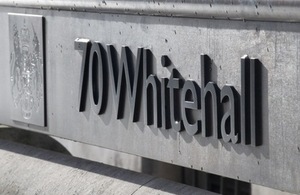 The Queen's Birthday Honours lists are published on Saturday 15 June in recognition of the achievements and service of extraordinary people right across the United Kingdom.
The reintroduction of the British Empire Medal (BEM) has continued to provide the opportunity to recognise an even greater number of people playing their part to create a Big Society. In total, 72% of awards in the Birthday Honours List are for people who are actively engaged in charitable or voluntary work within their local community.
Some notable examples are Robert Bryant, founder of the Let's Go Stroke Club which offers support to people recovering from stroke and their carers in Cheshire; Anne Bickmore, who founded the charity abcfund to help underprivileged children with food, days out, and Christmas presents, in East Sussex; Sally Derry, who for over 20 years has worked as a volunteer bereavement counsellor in Solihull; and Mary and Roy Hansell who co-founded the St Luke's Luncheon Club to provide a quality hot meal for vulnerable elderly people in Norwich.
Philanthropy has once again been a prominent theme among the recipients. In particular, the recommendations include a damehood for Phyllis Somers who has donated over £46 million to a range of medical research and social welfare charities; a damehood for Janet Wolfson De Botton, who has generously donated to the Tate and other cultural institutions, and to research into neurological diseases, through the Wolfson Foundation; and a CBE for Robert Fleming who for many years has made substantial donations through his family charitable trust.
In total 1,180 people have received an award:
1,022 candidates have been selected at BEM, MBE and OBE level, 297 at BEM, 501 at MBE and 224 at OBE
72% of the recipients are people who have undertaken outstanding work in their communities either in a voluntary or paid capacity
there are 556 successful women candidates in the list, representing 47% of the total; women candidates include 9 Dames, 31 CBEs and 4 CBs
6% of the successful candidates come from ethnic minority communities
Among the well known names being honoured there is a Companion of Honour for Sir Nicholas Serota, Director of the Tate; a knighthood for the sculptor Anish Kapoor; a CBE for the ceramic artist, Grayson Perry; a CBE for the actress, Claire Bloom; a CBE for the actor and comedian, Rowan Atkinson; a CBE for Thomas Heatherwick, designer of the Olympic Cauldron; an OBE for the sports presenter, Clare Balding; an OBE for the golfer, Paul Lawrie; an MBE for the actor, director and playwright, David Haig Collum Ward; an MBE for the comedian, Robert Brydon; an MBE for the singer and broadcaster, Aled Jones; and an MBE for the singer and songwriter, Adele Adkins.
Senior women at DBE in this list include Professor Nicky Cullum, Professor of Nursing, University of Manchester; Professor Hermione Lee, President of Wolfson College and Professor of English Literature, University of Oxford; and Diana Ellis, Executive Chair, British Rowing.
The awards recommended by the Parliamentary and Political Services Committee, chaired by Lord Spicer, include a Companion of Honour for the Rt Hon Menzies Campbell, MP for North East Fife; and knighthoods for Edward Leigh, MP for Gainsborough; Stephen Houghton, Leader, Barnsley Metropolitan Borough Council; the Rt Hon Andrew Stunell, MP for Hazel Grove; and Tony Robinson for his public and political service.
Education
The Education Committee has recognised 28 headteachers in total, including knighthoods and damehoods for the following 5 headteachers; Dana Ross-Wawrzynski, Executive Headteacher, Altrincham Grammar School for Girls; Sue Bourne, Headteacher, The Avenue School, Reading; Kenneth Gibson, Executive Headteacher, Harton Technology College and Jarrow School, South Tyneside; Greg Martin, Executive Headteacher, Durand Academy, London Borough of Lambeth and David Carter, Executive Principal, Cabot Learning Federation.
In total, about 10% of honours are for work in education. The education BEMs include an award to Anisa Haghdadi, a social entrepreneur, who founded a street dance company at 15 for underprivileged young people in Birmingham, and has made a real contribution to education through her voluntary work for Aim Higher, supporting a range of post 16 learners.
Health
Health makes up 7% of all honours. There is a rich breadth of vocations recognised within the health sector: recommendations at MBE include 3 nurses, 3 GPs, 2 community paediatricians, a radiographer and a plaster cast technician. In addition to the damehood for Professor Nicky Cullum, there is a damehood for Professor Anne Johnson, Professor of Infectious Disease Epidemiology, University College London. The other awards in health include a knighthood for Professor Peng Tee Khaw, Consultant Opthalmic Surgeon, Moorfields Eye Hospital, London; and a knighthood for Professor Andrew Hall, lately Professor of Epidemiology, London School of Hygiene and Tropical Medicine.
Industry and the economy
Industry and the economy make up 10% of the awards and include knighthoods for Richard Olver, Chairman, BAE Systems plc; Charlie Mayfield, Chair, John Lewis Partnership; and Brendan Barber, lately General Secretary, Trades Union Congress. Other awards include a CBE for Dale Murray, an angel investor with a portfolio of investments across technology and other sectors; and a CBE for Caroline Cooper, Chief Operating Officer, Big Society Capital.
There are MBEs for a wide variety of people, including Holly Tucker and Sophie Cornish, co-founders of Notonthehighstreet.com, one of the most innovative e-commerce businesses to come out of the UK with the capacity to support thousands of SMEs in the UK and overseas.
Science and technology
Science and technology make up 2% of the total. The awards include a knighthood for Professor Michael Stratton, Director, Wellcome Trust Sanger Institute, and Professor of Cancer Genetics, Institute of Cancer Research; and a knighthood for Professor Nigel Shadbolt, Professor of Artificial Intelligence, University of Southampton.
The MBEs include an award to Professor Catherine Martin, Biologist and Editor in Chief, The Plant Cell, whose work has led to fundamental new insights into the production of pigments in flowers and fruit.
Law and order
In law and order, the awards include a knighthood for Stephen House, Chief Constable, Police Service of Scotland; a CBE for Susan Akers, lately Deputy Assistant Commissioner, Metropolitan Police Service; and a CBE for Christopher Allison, National Olympic Security Co-ordinator for London 2012. The recommendations for state servants include a KCB for Jonathan Stephens, Permanent Secretary, Department of Culture, Media and Sport. Among the state BEM recipients is Paul Brett, who has delivered ground-breaking work with gypsy, Roma and traveller prisoners in HMP Northumberland.
Sport
Awards for sport make up 4% of the total. Included is the greatest female darts player of all time, 9-time Women's World Professional Darts Champion, Catrina Gulliver, who receives an MBE for services to darts and to charitable fundraising.
Wasim Khan, the first British born Pakistani to play professional cricket in England, and now Chief Executive of the Cricket Foundation, receives an MBE for services to cricket and the community, in recognition of his work in giving millions of children the opportunity to play cricket and develop a sense of community.
Community relations
Finally, there is also an OBE for Wendy Parry for services to community relations through the Tim Parry Johnathan Ball Foundation for Peace. Her commitment to peace building has touched tens of thousands of lives and brought about tangible change through her work with families, victims and survivors of political violence.
Image credit: Johnny Green/PA Archive/Press Association Images
Published 14 June 2013