Queen's Birthday Honours List 2010
The 2010 Queen's Birthday Honours list is published today, recognising outstanding achievement and service across the whole of the UK.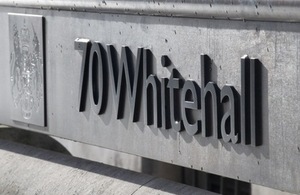 11 June 2010
The 2010 Queen's Birthday Honours list is published today, recognising outstanding achievement and service across the whole of the United Kingdom.
The selection of these names was carried out by the independent committees during the previous administration.  But the current Prime Minister did, in accordance with the normal practice, submit them to The Queen for approval.
This is one of the most diverse lists yet, reflecting the make-up of the population. The number of women in the list has increased further from 45% at New Year 2010 to 47% in this round.
The majority of awards have gone to extraordinary people from a wide range of fields who have made a real difference to life in their communities. The list includes an Ironman champion, an owl conservationist, a flying bank clerk and the resident organist at the Tower Ballroom in Blackpool.
This year 336 (56%) of the MBEs on the list were put forward by members of the general public, with nominations coming in from up and down the country.
In total 975 people have been recommended to The Queen for an award:
836 candidates have been selected at MBE and OBE level, 598 at MBE and 238 at OBE.
76% of the recipients are people who have undertaken outstanding work in their local communities.
There are 460 successful women candidates in the list, including 11 Dames, 33 CBEs and one CB. This represents 47% of the total.
7.3% per cent of the successful candidates come from ethnic minority communities.
Among the big names being honoured there is a CBE for Oscar winning actress Catherine Zeta-Jones and an OBE for playwright, author and critic Bonnie Greer. There is also a CBE for Hope Powell, England Women's Football Coach who has made an outstanding contribution to the development of women's football. Horse racing jockey Tony McCoy receives an OBE and motor racing legend David Coulthard, receives a MBE.
But most of the awards are for ordinary people who have gone that extra mile to make a difference to the lives of people around them.
Among the community candidates there is a knighthood for Robert Murray, for services to football and education in the North East. His Sunderland Foundation has now worked with over 150,000 young people in the UK's most successful football based community programme.
Peter Cleminson receives a CBE for voluntary service to ex-Servicemen and Women. As former National Chairman of the Royal British Legion he has been instrumental in raising the national profile of the Legion. There are also OBEs for Bryn and Emma Parry, the Co-Founders of the Help for Heroes charity, which has caught the mood of the nation and helped to reconnect the Armed Forces with the public.
A few of the many other MBEs for people who have made a real impact in the community include:
Susan Langford, founder and Director of Magic Me, an organisation that specialises in running creative projects which bring together young people (aged 9+) and older people (55+) from different backgrounds to create a sense of community.
Elma Anne Rendall, customer service officer with the Royal Bank of Scotland on Orkney, who provides a flying banking service to several Scottish islands.
Hanan Ibrahim, founder of the Somali Family Support Group in 2001, an  organisation which exists to address the social and welfare needs of BME families who live in deprived areas.
Diane Lofthouse, who has raised awareness of the needs of disabled people and helped improve public confidence in reporting hate crime through voluntary work with the Crown Prosecution Service.
Harry Samuel, a voluntary worker for the Coal Industry Social Welfare Organisation, who for the past 24 years has provided advice and support to former miners and their families by dealing with their chronic bronchitis and emphysema, and vibration white finger claims.
Oku Ekpenyon, for voluntary service to the History of Black British People. She has made a voluntary commitment in raising public awareness and acknowledgement of the black presence in Britain.
Anthony Warburton, for 40 years of service to wildlife conservation, in particular owls and their habitats. He set up the World Owl Trust and pioneered a way to capture and release owls to protect them from extinction.
There is also a CBE for Elizabeth Burnley, Chief Guide, Girlguiding UK, who has made a huge impact nationally and internationally on Girlguiding over the last 30 years.
Education makes up about 10% of the total.
There are DBEs for Professor Alison Richard, Vice-Chancellor, University of Cambridge, who has led significant modernisation of the university; Jacqueline Fisher, Principal of Newcastle College, who has helped it become one of the largest and most successful colleges in the country; and for Naila Zaffar, who has been head teacher at Copthorne Primary School in Bradford for the past 17 years where she has been an inspirational role model for many in the community.
The list of education OBEs includes Jane Arrowsmith, the Principal of Troup House School in Aberdeen, for services to Special Needs Education and for Robin Landman, Chief Executive Officer of Network for Black Professionals, who has championed race equality in education for over 13 years.
In total 18 head teachers, and 16 school and college principals are recommended for honours, as well as three school teachers, 11 school governors, two caretakers and a head porter who receive MBEs.
Health makes up 9% of all honours.
Professor Barbara Monroe, Chief Executive of St Christopher's Hospice in London, receives a DBE for services to palliative care. She has also written extensively about bereavement and the psychosocial aspects of palliative care.
There are knighthoods for Professor Marc Feldmann, Professor of Cellular Immunology at the Kennedy Institute of Rheumatology in London, who discovered anti-TNF therapy, a revolutionary treatment for rheumatoid arthritis; and for Professor Ian GILMORE, the President of the Royal College of Physicians, one of the leading doctors of his generation and founder member of the Alcohol Health Alliance.
Other awards include a CBE for Mary Spinks, Director of the Florence Nightingale Foundation. She is a prominent nurse, whose name is synonymous with raising standards of nursing practice.
There is a rich diversity of awards at MBE including awards for six nurses, two GPs, and a Dental Adviser. An MBE also goes to James Witham, porter and driver at the Harrogate Health Care NHS Foundation Trust. Now aged 72, he has given exemplary service in his work at the hospital and has the gift of being able to calm the fears of very sick and often anxious patients.
Industry and the Economy makes up 13% of the awards.
Simon Robertson, Chairman of Rolls Royce plc and a noted philanthropist who has had a long and highly distinguished career in the City and in British industry, receives a knighthood. There is a DBE for Amelia Fawcett, Chair of Pensions First Group LLP and Guardian Media Group. She has had a hugely successful career in finance, and in 2007 helped to raise more than £300,000 for a breast cancer charity by sailing across the Atlantic in 17 days.
CBEs include the record producer Robin Millar who owing to retinitis pigmentosa has been blind since 1985. He has 150 gold and platinum discs to his credit including 44 number one hits and has worked with artists such as Sting, Paul Weller and Peter Gabriel.
There is an OBE for Joanna Elson, Chief Executive of Money Advice Trust. She has been a highly effective champion for people struggling with their debts, many of whom are amongst the most vulnerable in society. And OBEs include Tamara Mellon, Co-Founder and President of Jimmy Choo. She is considered by many to be one of the most successful businesswomen in Britain.
There are MBEs for a wide variety of people, including Dr Mah Hussain-Gambles, Chief Executive Saaf International Ltd, who has been a trail blazer of ethical skincare, formulating the first western beauty products to be both Halal and organically certified.
Science and Technology makes up 3% of the awards.
There is a DBE for Professor Julia Goodfellow, Vice-Chancellor at the University of Kent. Before this appointment she was Chief Executive of the Biotechnology and Biological Sciences Research Council and the first female head of any of the UK's Research Councils.
Among the OBEs is Professor Brian Cox, Chair of Particle Physics at the University of Manchester. He has a high profile in the media as a populariser of science due to his work in promoting physics, particularly particle physics and cosmology.
MBEs include Robert Mizon, National Co-ordinator of the Campaign for Dark Skies, who has campaigned for two decades to raise awareness of the issue of light pollution. There are also MBEs for Dr Frank Duckworth, for services to the Royal Statistical Society and for Dr Anthony Lewis, for services to mathematics. They are both also honoured for their services to cricket, as together they formulated the Duckworth-Lewis Method to determine the result of limited over cricket matches affected by bad weather.
Arts and Media make up 6% of the total.
There is a DBE for the Artist Paula Rego, a knighthood for Ronald Harwood, one of the world's most celebrated playwrights and screenwriters, and there is a knighthood for Donald Insall, considered by many to be one of the leading conservation architects of his generation.
There is a CBE for poet Simon Armitage, who has won both critical and popular acclaim with his modern and accessible style. Amongst the OBEs are musician and composer John Cale, author James Herbert and Bergerac and Midsomer Murders actor John Nettles.
The MBE list includes television presenter Fred Dinage, BBC Radio 5 Live Chief Football Correspondent Mike Ingham, former 'Allo 'Allo Actress Michelle Vicki Fowler, who has worked tirelessly for charity over the past 20 years and Philip Kelsall, the resident organist at Blackpool Tower.
Those supporting local communities through the arts are also recognised including Nora Morrison who opened her School of Dancing in Nottingham in 1939 and still continues to teach dance at the age of 92.
The State Sector awards include a KCB for Peter Housden, Permanent Secretary at Department for Communities and Local Government, and a DCB for Lesley Strathie, Permanent Secretary at HM Revenue and Customs.
Awards for Sport make up 3% of the total.
As well as Hope Powell, the England Women's Football Coach, CBEs include Dr David English, founder of the Bunbury English Schools Cricket Association, for services to cricket and charity.
There is an MBE for the British skeleton racer Amy Williams. She became the first British woman to win a Winter Olympic individual gold medal for 58 years. Also included amongst the MBEs are footballer Gary Speed and British Triathlete, and reigning triple World Ironman Champion, Christine Wellington.
MBEs for grassroots heroes of sport, making a real difference to the lives of hundreds of others include Reg Adams, lately coach of Grangemouth Amateur Swimming Club, who dedicated over 50 years of his life to Scottish swimming before retiring in December 2009. Jennifer Kent of Bexleyheath in Kent receives a MBE for voluntary service to gymnastics. She helped to create a gym for young people in her local area.
And finally, there are MBEs to actresses Eileen Derbyshire and Barbara Knox,who play Emily Bishop and Rita Sullivan in Coronation Street which celebrates its 50th anniversary this year.
Notes to editors
Read the full honours list.
For Cabinet Office press office contact details, visit the press office page.
Published 11 June 2010