Press release
Putting women at the heart of the Welsh economy
Wales Office Ministers mark International Women's Day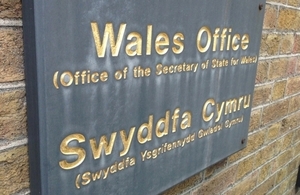 From successful business entrepreneurs to those working tirelessly to end violence against women and girls, this International Women's Day (8 March), Wales Office Ministers will recognise the important contribution women in Wales are making to their communities and the Welsh economy.
This year, the UK Government will focus its efforts on promoting Women's Economic Empowerment and Raising Girls' Aspirations with a view to putting women at the heart of the UK's economic growth.
Secretary of State for Wales, David Jones said:
Prioritising the economy and showcasing the full range of measures available or being taken to support women to realise their full potential is incredibly important, and will continue to be a key priority for this Government.

Women are vital to the success of UK businesses. Confronting barriers in the workplace that hold women back is simply good business sense.

But as we continue down the road to economic recovery, there is still more to do. Harnessing the talent of woman in the workplace today will ensure that UK businesses reap the benefits of this in the future.

Forward thinking businesses know this and are already ahead of the game in taking action and recognising the business benefits. I encourage other businesses in Wales to follow their lead for the future health of our economy.
Wales Office Minister with portfolio responsibility for equality, Baroness Jenny Randerson will host a dinner for prominent senior businesswomen in Wales at Gwydyr House. The event will provide an opportunity to mark the contribution they are making to the economy in Wales, and the steps being taken by Government to encourage more women into the world of work and enterprise.
Guests will include Janet Jones, Chair of the Federation of Small Business in Wales, Emma Watkins, Director of CBI Wales, Connie Parry, CEO of Hurns Brewing Company, and Cilla Davies OBE, Chair of the Prince's Trust Cymru.
Baroness Randerson said:
As the women joining me to mark this important day epitomise, Wales has some of the best and brightest business talent and we want to empower more women like them into high profile roles so they can inspire the next generation of young women business leaders.

This is about building a stronger economy and a fairer society. There is no tool more effective for economic advancement than the empowerment of women. Wales can and should take the lead in the UK and internationally in shattering that glass ceiling in every field – be it politics, business, manufacturing, agriculture or the arts.
Secretary of State for Wales, David Jones MP will be attending an event organised by the Rhyl branch of Inner Wheel – one of the largest women's service voluntary organisations in the world. The group will be making a presentation to the North Wales Domestic Abuse Service in recognition of the work they do to help women in abusive relationships.
The Home Secretary, Theresa May has today (8 March) announced that a scheme allowing police to disclose to individuals details of their partners' abusive past will be rolled out to police forces across England and Wales from today.
"Clare's Law" - the Domestic Violence Disclosure Scheme - is designed to provide victims with information that may protect them from an abusive situation before it ends in tragedy. Following a request, the scheme allows the police to disclose information about a partner's previous history of domestic violence or violent acts.
It follows a 14-month pilot in four police force areas, including Gwent, which provided more than 100 people with potentially life-saving information.
David Jones added:
International Women's Day provides the platform to reiterate that violence against women and girls is not acceptable, will not be tolerated and that help and support is available to those who need it.

Everyone has a right to live in safety and without fear and ending violence against women and girls is a priority for this government.
Stephen Crabb MP marked International Women's Day by welcoming a student from St David's School in Pembrokeshire to shadow him during his duties in Parliament.
Stephen Crabb said:
This Government is working to support and encourage employers to put the right measures in place to create more inclusive work places and to nurture talent. As the economic recovery continues, we cannot afford to ignore the huge additional contribution that women could make to our communities. Providing them with the opportunities to experience the world of work to help inform them in their future career choices is a critical part of this effort.
Published 8 March 2014