News story
Putting consumers at the heart of communications policy
Maria Miller announces new strategy, including a nuisance calls crackdown, ending 'bill shock' and protecting children online.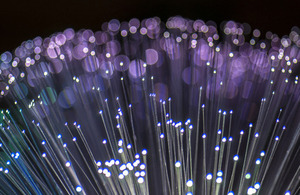 A new focus by the government will today put consumers at the centre of its communications policy.
Cracking down on nuisance calls, ending bill shock nightmares and protecting children online are key parts of a new approach that will put consumers' interests first, Culture Secretary Maria Miller announced today.
Connectivity, content and consumers: Britain's digital platform for growth reveals the Government's priorities for the media and telecommunications sectors.
The document sets out the legislative changes the government will make - and the issues we expect industry to address – to ensure the consumer remains the key focus of an industry that has changed at an unprecedented pace over the last decade.
Culture Secretary Maria Miller said:
The communications industry has undergone change at an unprecedented pace over the last decade.
In this digital age we must ensure the needs of the consumer are not lost in the dash for progress and the changes we are making will put the British public at the heart of the sector.
The government will ensure consumers are protected from potentially harmful content, soaring costs and contracts that don't meet their needs.
Nuisance calls
The nuisance calls crackdown includes changing the law so regulators can share intelligence about firms responsible for nuisance calls.
We will also explore other options for making it easier for regulators to act against companies responsible for nuisance calls. These include:
lowering the threshold for regulators to issue penalties for nuisance calls
supporting industry efforts to prevent nuisance callers concealing their number
clarifying the process for consumers to give their consent to receive marketing calls
We're clear that if there is not sufficient progress in this area, we will consider further legislation such as licensing call centres.
Public service broadcasters
Another important proposal is ensuring that public service broadcaster channels (the BBC, ITV, C4 and C5) remain easy to find as we move away from standard electronic programme guides that list what's on TV when.
Losing or gaining prominence on a TV guide can have a real impact on viewer numbers. We want the high quality programmes that reflect and define us as a nation to continue to be easy to find and access, and we will consult on how to achieve this.
Spectrum
The strategy paper also sets out how the government will create a more flexible system for managing spectrum - the invisible airwaves that transmit data, for example to phones, tablets or other smart devices.
We will enable dynamic spectrum access so that it is much easier to share spectrum among multiple users. We will also encourage underused spectrum to be returned to Ofcom so it can be awarded to new users by allowing the auction proceeds to be shared with the relinquishing users.
How should we measure media plurality?
We have also published a consultation on media plurality. It seeks views on fundamental questions about how media plurality should be measured, to ensure the media landscape is not dominated by too few organisations.
The consultation seeks views on:
the types of media that should be assessed
the genres it should cover
the types of organisation and services to which it should apply
the inclusion of the BBC
the audiences with which it should be concerned
The consultation takes Lord Justice Leveson's report as its starting point. It will inform the commissioning of a framework for measuring media plurality, which will be used to produce the first market analysis of plurality in the UK.
Further information
Read the full press release, with further details:
Published 30 July 2013