Press release
Purchase of sugary drinks falls during healthy swaps campaign
PHE publishes new marketing strategy setting out how we will motivate and support people to make changes to improve their health.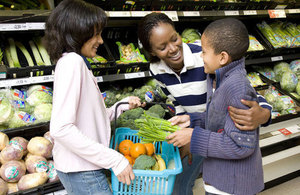 New figures show that the purchase of sugary fizzy drinks fell by more than 8% following Public Health England's (PHE's) Change4Life January 2014 campaign when compared with January 2013. This drop has been sustained – from January to May 2014 the average fall in purchasing overall was more than 5%.
More than 400,000 families signed up to Change4Life's Smart Swaps which aimed to encourage families to make one easy swap to help cut sugar and fat from their everyday food and drink. The most popular swap chosen by families was from sugary drinks to sugar-free drinks.
These results come as PHE publishes its new marketing strategy setting out how PHE will motivate and support millions more people to make and sustain changes that improve their health. It is focused on 3 life-stages; Starting Well, Living Well and Ageing Well. There will be new areas of work including a focus on teenagers, improving mental health and cutting back on alcohol consumption.
During PHE's first year, campaign highlights include:
250,000 smokers signed up for Stoptober in 2013 with initial estimates showing Stoptober directly generated over 130,000 successful quits
the Be Clear on Cancer campaign helped save lives; for example there was a 9.1% increase in patients first seen for lung cancer during the campaign compared to the same time in 2011
PHE's newly integrated database now contains 3.1 million people who have signed up for support
the new Dementia Friends campaign was launched in May, aiming to recruit 1 million Dementia Friends
Two-thirds of adults are overweight or obese, a leading cause of type 2 diabetes, heart disease and cancer. Meanwhile, smoking claims over 80,000 lives each year, 1.6 million people are dependent on alcohol and over half a million new STIs were diagnosed in 2010.
Sheila Mitchell, Marketing Director at PHE said:
This marketing strategy supports PHE's mission to protect and improve the country's health. Over the next 3 years we have an ambitious programme of evidence-based marketing campaigns which will help cut deaths and improve health outcomes. We have already made progress with campaigns like Change4Life, Be Clear on Cancer and Stoptober and we want to build on this success by delivering cost-effective marketing programmes that make a measureable difference to people's health throughout their lives.
The Change4Life Smart Swaps campaign, which ran in January 2014, generated more than 3 million unique visitors and was supported by the majority of local authorities and thousands of discount offers in Asda, Co-operative Food, Aldi and Lidl stores. Sales data show an 8.6% reduction in the purchase of sugary drinks compared to the same period the previous year.
Dr Alison Tedstone, Chief Nutritionist at PHE said:
The reduction in the purchase of sugary drinks over January 2014 compared to the same period in 2013 is encouraging. Because this reduction coincides with the period of the Change4Life Smart Swaps campaign it suggests the influence marketing can have on behaviour change. Eating a healthy, balanced diet with plenty of starchy foods, fruit and vegetables and eating less salt, saturated fat and sugar, together with being more active, will help people to maintain a healthy weight and lower the risk of developing heart disease, type 2 diabetes and some cancers.
As part of developing the marketing strategy PHE consulted with 150 people across local government, the commercial sector and non-governmental organisations.
Ends
Notes to editors
Public Health England's mission is to protect and improve the nation's health and to address inequalities through working with national and local government, the NHS, industry and the voluntary and community sector. PHE is an operationally autonomous executive agency of the Department of Health. www.gov.uk/phe Follow us on Twitter @PHE_uk
Read the PHE Marketing Strategy 2014 to 2017
Change4Life aims to help families eat well, move more and live longer. Since the campaign launched in 2009 about 1.9 million families and individuals have joined up. Further information about Change 4 Life
Smart Swaps include 5 simple swaps:

sugary drinks to diet, sugar free, no added sugar drinks, lower fat milk or water
cheese to reduced fat cheese
butter to lower fat butters or spreads
sugary cereal to plain whole wheat cereal biscuits, plain shredded whole grain or plain porridge
whole milk to semi-skimmed; or semi-skimmed to 1% fat or skimmed milk

Sales data: source Kantar Worldpanel, sample of 27,000 households in England
Public Health England Press Office
Wellington House
133-155 Waterloo Road
London
SE1 8UG
Published 3 July 2014