Press release
Pubs merger faces phase 2 investigation unless suitable undertakings offered
The anticipated acquisition by Greene King of Spirit Pub Company will be referred for an in-depth investigation unless acceptable undertakings are offered.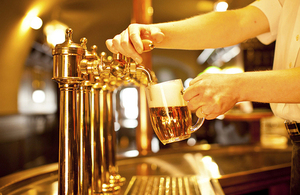 Greene King runs approximately 1,900 pubs, restaurants and a small number of hotels in the UK. Its brands include Eating Inn, Farmhouse Inns, Flame Grill, Hungry Horse, Meet & Eat, Old English Inns, Metropolitan Pub Company and Loch Fyne Seafood and Grill. Greene King also has brewing activities and supplies ale to internal customers and other pub operators.
Spirit Pub Company (Spirit) runs approximately 1,200 pubs across the UK and its brands include Chef & Brewer, Fayre & Square (also incorporating Wacky Warehouse), Flaming Grill, Golden Oak Inns, Good Night Inns, John Barras, and Taylor Walker.
The Competition and Markets Authority's (CMA) initial investigation found that around 1,000 Sprit pubs overlap with a Greene King pub in a local area. In the vast majority of these areas, the CMA does not have any competition concerns given the many alternative pubs offering similar eating and drinking options.
However in a small number of areas, the CMA found that the parties' pubs were in close proximity, were each other's key rivals and did not face sufficient competition from other outlets, meaning that the loss of that competition may lead to an increase in prices or a deterioration in the quality of the offering. As such, the CMA, at this first phase, has found that the transaction gives rise to a realistic prospect of a substantial lessening of competition in 16 local areas.
The transaction will therefore be referred for an in-depth phase 2 investigation unless Greene King and Spirit offer acceptable undertakings to address the CMA's competition concerns in a clear-cut manner.
Sheldon Mills, CMA Senior Director of Mergers and decision maker in this case, said:
Greene King and Spirit together operate over 3,000 pubs and restaurants across the UK, offering customers a wide range of eating and drinking choices under some well-known brands. Overall, we did not find major concerns with this transaction, given that most of the parties' pubs face local competition from national pub chains or independent rivals.

In a small number of areas, we found that after the merger the parties would operate pubs in close proximity without facing sufficient competition from rivals and we are concerned this could lead to a rise in the price of food or drink or a reduction in the quality of those pubs. Greene King and Spirit now have the opportunity to resolve these concerns by offering appropriate undertakings.
Notes for editors
The CMA is the UK's primary competition and consumer authority. It is an independent non-ministerial government department with responsibility for carrying out investigations into mergers, markets and the regulated industries and enforcing competition and consumer law. From 1 April 2014 it took over the functions of the Competition Commission and the competition and certain consumer functions of the Office of Fair Trading, as amended by the Enterprise and Regulatory Reform Act 2013.
The Reference Test – under the Enterprise Act 2002 (the Act) the CMA has a duty to make a reference to phase 2 if the CMA believes that it is or may be the case that a relevant merger situation has been created, or arrangements are in progress or in contemplation which, if carried into effect, will result in the creation of a relevant merger situation; and the creation of that situation has resulted, or may be expected to result, in a substantial lessening of competition within any market or markets in the United Kingdom for goods or services.
Under the Act a relevant merger situation is created if 2 or more enterprises have ceased to be distinct enterprises; and the value of the turnover in the United Kingdom of the enterprise being taken over exceeds £70 million ('the turnover test') or as a result of the transaction, in relation to the supply of goods or services of any description, a 25% share of supply in the United Kingdom (or a substantial part thereof) is created or enhanced ('the share of supply test').
The CMA's duty to refer the merger for a phase 2 investigation under section 33(1) of the Act is not exercised whilst the CMA is considering whether to accept undertakings in lieu of a reference. Greene King and Spirit have until 18 May 2015 to offer an undertaking to the CMA that might be accepted by the CMA if no undertaking is offered or accepted, then the CMA will refer the merger. All the CMA's functions in phase 2 merger inquiries are performed by inquiry groups chosen from the CMA's independent panel members. The appointed inquiry group are the decision makers on phase 2 inquiries.
The CMA's panel members come from a variety of backgrounds, including economics, law, accountancy and/or business. The membership of an inquiry group usually reflects a mix of expertise and experience (including industry experience).
The full text of this decision will be placed on the case page as soon as is reasonably practicable.
Enquiries should be directed to Rory Taylor (rory.taylor@cma.gsi.gov.uk,020 3738 6798).
For information on the CMA see our homepage, or follow us on Twitter @CMAgovuk, Flickr and LinkedIn. Sign up to our email alerts to receive updates on merger cases.
Published 11 May 2015