News story
Public to get clearer picture of how crime is recorded
More detailed crime categories are being introduced to give the public a clearer picture of how police are tackling crime.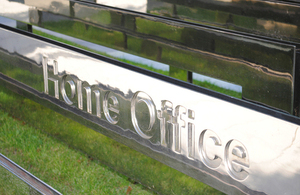 Under the current system, 70 per cent of crimes are recorded as 'undetected', leaving victims and the public concerned that nothing has been done by police.
This will change with the introduction of a new recording framework. A new 'community resolution' category will recognise the community penalties that criminals receive.
Some forces already submit this data voluntarily, but from April 2013 all forces will be required to. This will increase transparency and improve accountability.
'Undetected' offences also include cases where 'no further action' was taken as the police were unable to mount a prosecution, either because there was insufficient evidence, the alleged victim did not want to proceed or because one party died after the offence was committed.
Police
More details on why no further action was taken will start to be recorded from April 2014 after further consultation with police and other law enforcement agencies on sub-categories.
Policing and Criminal Justice Minister Damian Green said: 'Recording offences as 'undetected' leaves victims feeling neglected and police investigations misunderstood - it does not properly reflect police work and that's why we are scrapping it.
'It is wholly inaccurate to suggest to the public that more than two thirds of all crimes are not investigated by the police, yet that is what these statistics currently show.
'By introducing new categories, the police will be able to demonstrate the hard work they do and increase public transparency in policing.'
Including community penalties in the national statistics will build on the government's new Community Remedy measure, which will give victims of low-level crime and anti-social behaviour a say in the out-of-court punishment of the offender.  This will be introduced in new legislation later this year.
Published 5 March 2013