Public reminded to let in fresh air when meeting others indoors to reduce the spread of COVID-19
Government launches new campaign backed by medical experts, scientists and businesses urging the public to open windows when meeting friends and family indoors.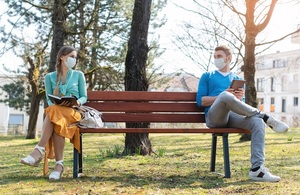 This comes as restrictions ease from today (Monday 17 May) with groups of 6 people, or 2 households, allowed to meet inside, and indoor hospitality and entertainment can reopen
New research reveals a quarter of adults either don't know or don't believe that opening windows when inside to prevent the spread of coronavirus (COVID-19), which alongside 'hands, face, space', remains essential to stop the spread of the virus
Everyone across England is being encouraged to remember, 'when you let friends in, let fresh air in too' in a new government advertising campaign launching today. The public information campaign has launched on the same day groups of 6 people, or 2 households, will once again be able to meet indoors, and indoor hospitality, leisure and entertainment industries are reopening their doors.
As more people begin to spend time with friends and family inside, the campaign continues to highlight the importance of letting in fresh air. Fresh air helps disperse infected COVID-19 droplets in the air that may carry the virus, helping prevent the spread of the disease. The public are being encouraged to open windows when socialising at home and businesses are asked to ensure adequate ventilation at indoor venues.
The public are also being urged to download and use the NHS COVID-19 app for check in on arrival at public venues. This is the quickest and easiest way to check in securely, enabling everyone to receive important public health messages as fast as possible. Research published in the journal Nature this week shows the app, which has been downloaded over 23 million times, averted approximately 600,000 COVID-19 cases between October and December 2020 and prevented thousands of deaths.
The new campaign will run across TV, radio, press, digital, out of home advertising and social media.
The message is essential as new research from Opinium, a strategic insight agency has uncovered low awareness from the public about why some of these behaviours are important. Opinium surveyed 2,000 UK adults between 7 and 11 May 2021 and found:
a quarter of adults (25%) either don't know or don't believe that opening windows when inside will reduce the spread of COVID-19
one in five (19%) do not understand why meeting people outside is better than meeting inside
there was high awareness of the need to wear a face covering (81%), washing hands (87%) and keeping distance (83%)
one in five (21%) adults are unaware that the risk of catching COVID-19 is reduced when outside compared to inside
just under half (46%) are unaware that fresh air blows COVID-19 particles away
15% incorrectly believe that it is impossible to catch COVID-19 when outside
only half (50%) of Brits recognise that windows should be opened regularly throughout the day to reduce the risk of spreading the virus
under a third (30%) open doors and windows a few times a day, 26% once every day, and 16% every few days – highlighting the need for more people to start letting fresh air into their homes
Health and Social Care Secretary, Matt Hancock, said:
With infections nationwide remaining low, and over half of the adult population now vaccinated, we are able to take the next step out of lockdown and get back to the things we love doing.

But with the presence of variants in the UK and around the world, COVID-19 remains a very real threat, so we must stay vigilant.

I urge you to exercise caution when meeting up with friends and family and to keep a safe distance from others.

Remember meeting people outside is always safer, and when meeting indoors, make sure you let in fresh air by opening a window or door.

These are small changes we can all make in our daily lives that will have a huge impact on stopping the virus from spreading.
Chief Medical Officer Professor Chris Whitty said:
We have made great progress over the past few months in reducing infections, thanks to the efforts of the public and the roll-out of our vaccination programme. However, the virus is still circulating and with the B1.617.2 variant on the rise, it is important we all remain cautious.

The evidence is very clear that outdoor spaces are safer than indoors, and when you are indoors letting in fresh air helps reduce risk.

Regardless of whether you are planning on meeting indoors or outdoors, it is vital that if you have a fever, continuous cough or there is a change in your taste or smell that you isolate immediately, order a test and do not mix with others.
Rules on physical contact with friends and family will also relax and the public is being encouraged to take personal responsibility when deciding to hug loved ones.
Medical experts, SAGE scientists and spokespeople from certain industries reopening, including Merlin Entertainments, British Institute of Innkeeping, Association of Independent Museums and British Holiday & Home Parks Association are supporting the campaign to reiterate the messages to the public.
Professor Catherine Noakes, Professor of Environmental Engineering from Leeds University, who has previously created short information films to show how the virus transmits inside compared to outside, comments:
An infected person releases COVID-19 particles into the air by coughing, talking or simply breathing and research shows the risk of infection is higher indoors than outdoors. When you are in enclosed spaces the infected particles can build up over time and remain suspended in the air, so those in the room are more likely to breathe in the infected particles, especially if there is no ventilation. With this in mind, as we begin to meet others inside, it's so important we stick to the guidance and open windows so fresh air can disperse and blow COVID-19 particles away.
NHS GP, Dr Helen Lawal comments:
It's really exciting that we are now all going to be allowed to see friends and family members inside, however, it's still incredibly important that we remember key behaviours when taking these steps. Following the 'hands, face, space and fresh air' behaviours, such as washing hands, wearing face masks and opening windows (especially if you do have visitors inside your home), will ensure we are keeping our friends and family safe as we move through the roadmap out of lockdown. Don't forget about the twice weekly testing, using lateral flow tests to help identify the 1 in 3 who don't have any symptoms, and checking in on the NHS Covid-19 app when visiting public venues, will also help to reduce the spread of COVID-19.
While infections and deaths continue to fall in most parts of the UK, they are rising in many parts of the world and variants remain a threat to the significant gains the UK has made over the past year. The public is encouraged to protect these gains by continuing to exercise caution and common sense. People must follow social distancing when not with friends and family, including in workplaces, shops, pubs, restaurants, and they are encouraged to ensure adequate ventilation, when indoors, to prevent the spread of the virus and variants. Remembering, hands, face, space, and plenty of fresh air.
We must all take this next step safely. Visit GOV.UK coronavirus (COVID‑19) pages for more information. 
Background information
Download stills from the advert
Fiona Eastwood, Chief Operating Officer Midway Attractions at Merlin Entertainments said:
Our Merlin Midway attractions in England are busy preparing to reopen on 17th May, in line with step 3 of the recovery roadmap. Our teams are delighted to be finally welcoming visitors back to our indoor attractions in a COVID-secure manner, allowing them to have enjoyable days out again. We recognise how important our leisure and tourism destinations are in delivering much-needed days out and helping to create fun and memorable family experiences again which have been lacking over the pandemic period and are so vital to our collective wellbeing.
Steven Alton, CEO of the British Institute of Innkeeping, commented:
Since reopening last year, our members have worked tirelessly to ensure that their pubs are COVID-secure, ensuring customer and staff safety with enhanced cleaning regimes, one-way systems, staff masks, training, Test and Trace measures, contactless payment and much more. After a successful outdoor reopening in April onwards, they are ready to welcome back their customers to the heart of their pubs, providing much needed safe spaces for them to reconnect with friends and family. We have invested heavily in our pubs and restaurants, and in the early stages of indoor reopening we will need customers to play their part in supporting these measures, which have been put in place to ensure the safety of all guests and staff alike. The whole sector will be ensuring a great hospitality experience whilst delivering safety measures for the benefit of everybody who has missed the pub so much over the last year.
Andrew Lovett, Chair of Association of Independent Museums, said:
I am absolutely delighted that we can welcome people back to our museums, after all, the whole purpose of a museum is to be open for visitors. Museum staff and volunteers up and down the country have been working hard to ensure we can open our doors safely, introducing measures including one-way systems, social distancing, enhanced cleaning and pre-booked ticket slots that keep visitors safe but don't detract from all that we love about museums. Keeping our doors open, and keeping each other safe, will require us all to continue to follow the government's public health advice.
Ros Pritchard OBE, Director General of the British Holiday & Home Parks Association said:
Holiday parks and campsites have always been about enjoying the great outdoors and we are delighted to be welcoming our customers back. We've fitted hand sanitiser stations, implemented one-way systems, increased ventilation and even mown the grass to assist people in keeping their social distance, all to provide fresh air holidays that everyone needs after being locked down for so long. Whether in the countryside or at the seaside, holiday parks and campsites are going the extra mile to provide customers reassurance of a safe, and very enjoyable, holiday.
Attitudinal data
Opinium conducted an online survey with a nationally representative sample of 2,000 UK adults aged 18 and over from 7 May to 11 May 2021. The survey was completed via an online self-completion questionnaire, with quotas and weighting applied to the sample to be nationally representative of all UK adults aged 18 and over by age, gender, region, employment status, social grade and ethnicity.
The government, medics and industries are urging the public to remember 'hands, face, space and fresh air' as we start to visit these venues and let people into our homes:
hands – wash your hands regularly and for at least 20 seconds
face – wear a face covering in indoor settings where social distancing may be difficult, and where you will come into contact with people you do not normally meet
space – consider keeping a safe distance from others where possible. You can hug your friends and family, but this is a risk based decision and distance is still recommended when in formal environments with people you do not know
fresh air – If you do have people inside your house, open your windows to allow fresh air in and keep the space ventilated. Fresh air helps to remove the indoor air, which may contain virus particles. We're much safer in the fresh air because COVID-19 particles are blown away. If you are inside a public venue, you can also ask them to open their windows in order to help ventilate
In addition, other measures featured in key venues that are being recommended to the public, include:
checking into the NHS COVID-19 app if you're visiting a restaurant, coffee shop, pub, bar, gym or hairdresser. Make sure you check in to venues you visit. Scanning the official NHS QR code poster using the NHS COVID-19 app is the quickest and easiest way to check in securely, enabling you to receive important public health messages as fast as possible. If you don't have the NHS COVID-19 app, make sure you provide your contact details to the venue
rapid testing: the government is encouraging everyone to get tested twice a week, even if you don't have symptoms. Regular rapid testing will stop the virus spreading and keep those close to you safer and keep life moving. Free rapid tests are easy to get from your workplace if available, to test or collect at a local testing site, at participating pharmacies and to order online
Additional information
Rapid testing
Around 1 in 3 people who have COVID-19 have no symptoms and could be spreading it without knowing. That could be a friend, a relative, a work mate. It could even be you.
Testing twice a week if you don't symptoms will help stop the virus spreading, keeping those close to you safer.
Free rapid tests are easy to get from your workplace if available, to test or collect at a local testing site, at participating pharmacies and to order online.
Get free, rapid COVID-19 tests
NHS COVID-19 app
The NHS QR code check in feature is a key part of the ongoing coronavirus response.
Visitors should check in via the NHS COVID-19 app. It's the quickest and easiest way to check in securely and receive important public health messages as fast as possible. Or visitors can provide their name and contact details if they don't have the NHS COVID-19 app.
The NHS COVID-19 app is shown to reduce the spread of coronavirus. Make sure you have the latest version downloaded today.
Let's take this next step safely.
Watch a 60 second video of the app in use
Watch a 30 second video of the app in use
Step 3 of the roadmap of easing lockdown restrictions from Monday 17 May include:
inside public venues, such as pubs and restaurants, cinemas, bowling alleys, museums and theatres, hotels and bed and breakfasts, sport and gym classes can reopen
people will be allowed to meet in groups of 6 or 2 households inside public venues and in their own homes
groups of 30 will be allowed to meet outdoors, including in hospitality
adult group sport will be allowed to restart
outdoor events allowed up to the lower of 4,000 attendees or 50 per cent capacity
social distancing and close physical contact with friends and family allowed
legal limit on numbers of mourners at funerals to be removed and up to 30 people can attend weddings and other lifetime events
care home residents are allowed up to 5 named visitors
overseas holidays permitted to 'green list' countries
no face coverings required in secondary school classrooms and in person teaching allowed at universities
people from different households can hug
Published 17 May 2021