Press release
Public Health England reveals winning entrepreneurs of Health X competition
Health-tech innovators to improve the nation's health through technology.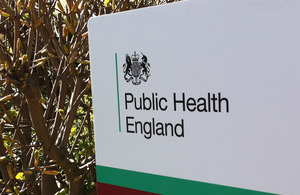 Public Health England (PHE) has unveiled the 3 winners of the PHE Health X initiative, the first competition of its kind that will bring inspirational technology to the public.
Nearly 150 entries were submitted to PHE by early-stage tech businesses for the competition, which aims to transform the way the nation uses technology to monitor and improve their health, by making motivational health apps widely available for free.
The winning apps are:
Fee fi fo fit
An intervention product to promote positive changes in young people using a gameified reward system. The judges felt that it is beautifully simple and were impressed by how it targets children and families. Its developers showed a clear product roadmap and the product is simple, clever and visual.
Foodswitch
Foodswitch is a smartphone app which provides consumers with nutritional information to help consumers make healthier choices when shopping. The judges felt it could help individuals make a real simple change and has huge potential - creating mindfulness in the consumer. An idea with the potential to change every shopping basket in the country.
Youniverse
A 28-day exercise and diet planner, which generates daily meal plans, shopping lists and exercise ideas. Again the judges felt the product has huge potential and demonstrates expertise of data. This app could create something really exciting.
Each will be provided with a springboard to launch their digital product to consumers. A unique benefits package will be tailored for each winner and will include significant promotional support through PHE's existing campaigns, presence on the NHS Choices website and help with product development.
The shortlisted applicants demonstrated their products to a Health X judging panel at a finalists' event in London on 11 August 2014.
Professor Kevin Fenton, Director or Health and Wellbeing at PHE, said:
We have been delighted by the response to our inaugural Health X competition and the quality of the entries has really reinforced the potential of technology to make a positive impact on the nation's health.

Using technology to monitor and improve health is not a new concept, but until this point, it's mostly been an audience already engaged in their wellbeing that has made use of technology. PHE Health X seeks to change this by making exciting apps that can really make a difference, free and available to all.

We are very excited about helping to bring the 3 winning apps to market.
Ends
Notes to editors:
The judging panel was made up of representatives from Public Health England, The Daily Telegraph, Entrepreneur First, Health Box, Delta Partners and Tech City.
Each of the Health X winners will partner with PHE to work towards executions of their solutions across the Change4Life campaign. The prize delivers the following benefits to all winners:

marketing and exposure: the winners will receive the full benefit of the PHE network and reach. There are 3 main elements to this - the PHE marketing database (3.2 million users), the On Demand Portal and the NHS Choice website (10 million visitors a week)
mentoring: winners will receive mentoring from the initiative's extensive network of incubators, venture capitalists, entrepreneurs, brands and industry experts to improve and build on their existing ideas and products
connectivity: PHE Health X partners will support the winners by opening up their extensive networks across the technology and health spaces
design and product development: design and product resources will be made available to support the winners to help refine their products
commercial and business strategy: the winners will receive support in developing their business strategy for their product to help them reach key target audiences, and develop key relationships and partnerships
proof of concept market: the winners will have the opportunity to test their product and they will be able to use this as a case study for monetising their product internationally

PHE exists to protect and improve the nation's health and wellbeing and reduce health inequalities. It does this through advocacy, partnerships, world-class science, knowledge and intelligence, and the delivery of specialist public health services. PHE is an operationally autonomous executive agency of the Department of Health. www.gov.uk/phe Follow us on Twitter @PHE_uk
About Tech City UK: Tech City UK supports UK digital entrepreneurship by lowering barriers to success through creating partnerships across the ecosystem that add value to the digital entrepreneur, promoting the digital and technology industry in the UK and internationally, informing policy makers at the right levels of Government about the needs of the digital entrepreneur, and piloting programmes to increase the growth of digital businesses in the UK. www.techcityuk.com @TechCityUK
Public Health England Press Office
Wellington House
133-155 Waterloo Road
London
SE1 8UG
Published 13 August 2014