Public given chance to vote off the weakest regulations
Communities Minister Baroness Hanham is asking people to vote out policies they think are the weakest links, in a drive to eliminate ineffective…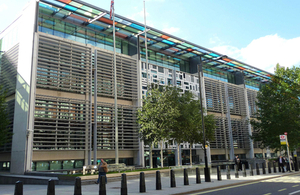 Communities Minister Baroness Hanham is asking people to vote out policies they think are the weakest links, in a drive to eliminate ineffective and unnecessary regulations from the country's housing laws.
From today the Government's Red Tape Challenge is shining a spotlight on all housing and construction related regulations. Any simplification will not come at the cost of quality, and smart regulation will encourage growth while maintaining high safety standards and legal protections.
Baroness Hanham is asking members of the public and interested parties such as builders, businesses, owners, tenants and landlords to look through the list and see how the system can be simplified.
They will be asked to identify excessive or complicated legislation that is acting as a barrier to the business and investment needed to help reinvigorate housing and construction in this country.
The review of regulations will reflect the approach taken in Housing Strategy published in November last year. The Strategy outlines how the Government is committed to better environmental standards; more affordable housing; security of tenure; legal protection for tenants and leaseholders; and support for the elderly, vulnerable households and those on low incomes.
The Government has already taken a series of steps to cut unnecessary red tape, including abolishing Home Information Packs, reducing burdens on short-term holiday lets, removing blanket regulation on Houses of Multiple Occupation that would have reduced choice for tenants, and introduced new freedoms and flexibilities for social landlords via the Localism Act. This review will help inform the scope for further reductions of such unnecessary and disproportionate red tape.
Baroness Hanham said:
For years builders, businesses, landlords and residents have had to navigate an increasingly complicated set of rules and regulations to do things by the book. Now we're giving them the chance to tell us what they would like us to change so that building a new home or property is a smoother ride.

The Red Tape Challenge has already helped the Government update or remove hundreds of regulations and I'm confident that with the help of the public and the people who see housing law in action every day, we can streamline housing and construction law while protecting the high standard of  buildings and infrastructure that this country needs.
Housing Minister Grant Shapps said:
Years of Government tinkering with technicalities have lead to a tangle of red tape and regulations that make every step toward growth and investment a battle of wits, with only the toughest left standing.

At a time when demand for high-quality, affordable housing has never been higher, it's time to unravel the rules.

This is an opportunity for anyone who has had to test their strength, wits and patience battling this bureaucracy to tell us which laws are worth their weight in gold and which should be sent to the scrapheap.
Notes to editors
Members of the public and interested parties can look through the list and see how the system can be simplified. The Red Tape Challenge website can be found at: www.redtapechallenge.cabinetoffice.gov.uk/themehome/housing-and-construction (External link).
Twitter
Keep up to date with the Department by following us on Twitter (external link).
Media enquiries
Visit our newsroom contacts page for media enquiry contact details.
Published 12 January 2012