Proposals for a reformed House of Lords published
Comprehensive proposals for a smaller, reformed House of Lords, to which members are elected, have been published today.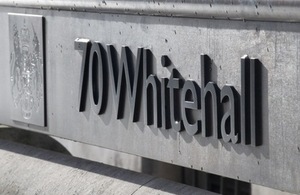 Comprehensive proposals for a smaller, reformed House of Lords, to which members are elected, are published today by the government.
The proposals, contained in the draft House of Lords Reform Bill and accompanying White Paper, set out in detail options for how a reformed House could look. The draft Bill sets out firm proposals, while the White Paper considers alternative options on which the government remains open-minded.
The government is committed to a wholly or mainly elected chamber and both options are reflected in what is published today.  The draft Bill illustrates how a reformed House of Lords with 80% of elected members could look, with the remaining 20 per cent appointed independently to sit as cross-benchers. Alongside this, the White Paper sets out the case for a 100 per cent elected chamber.
Key proposals contained in the draft House of Lords Reform Bill include: 
a reformed House with 300 members, each eligible for a single term of three parliaments
elections using the single transferable vote (STV), electing a third of members each time with elections normally taking place at the same time as General Elections
multi-member electoral districts, to be drawn up independently based on national and county boundaries
a continuation of the presence of Bishops of the Church of England in the House of Lords, reducing their number from 26 to 12
a transition staggered over the course of three electoral cyclesThe White Paper sets out three different options for the transition period and acknowledges that the case can be made for other proportional representation systems including the open list. The draft Bill and White Paper are clear the powers of the reformed House of Lords will remain the same, with it continuing to provide scrutiny and expertise, complementing the work of the Commons.
It is the government's intention that the first elections take place in 2015. The draft Bill and White Paper will now be considered by a Joint Committee, composed of 13 peers and 13 MPs, before legislation is introduced next year.
Prime Minister, David Cameron, said: 
In a modern democracy it is important that those who make the laws of the land should be elected by those to whom those laws apply. The House of Lords performs its work well but lacks sufficient democratic authority. 
"The House of Lords and its existing members have served the country with distinction. However, reform of the House of Lords has been on the agenda for more than 100 years and many governments have considered the complex issues which surround it but full reform has not yet been achieved. 
"This government is committed to resolving these issues so that progress can be made.
Deputy Prime Minister, Nick Clegg, said:
Governments and politicians on all sides have talked about reforming the House of Lords for over a century and we're now getting on with finishing that process.
"It's only right that people can have a say in who sits in their Parliament and that our politics is both open and accountable. This means a reformed House of Lords with a democratic mandate - something all the major parties pledged in their last manifestos.
"This is our fixed goal and we're clear that we want the first elections to the reformed upper chamber to take place in 2015.
"But while we know what we want to achieve in 2015, we're open-minded about how we get there and the proposals we've set out in the White Paper are now open for genuine debate.
Notes to editors
STV is a form of proportional representation in which voters are invited to rank candidates on the ballot paper in the order in which they would like them to be elected. To be elected, a candidate must achieve a target number of votes, calculated on the number of votes cast and the number of seats available. Any votes they receive over the target number are redistributed according to the preferences expressed on the ballot papers.
For any further media enquiries, please contact Katherine Pateman at the Cabinet Office Press Office on 020 7276 0516.
Published 17 May 2011