Press release
Property owners protected by HS2 compensation scheme
Proposed measures to compensate residents affected by HS2 are announced.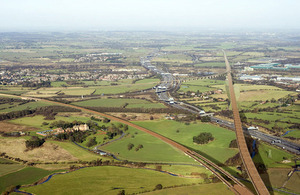 New proposals setting out compensation for residents affected by the first phase of HS2 have been published today (12 September 2013) by Transport Minister Simon Burns.
The measures go significantly beyond what is required under statute.
The government agreed to re-consult on compensation following a High Court ruling in March. The proposals aim to assist property owners who are affected by HS2, as well as supporting the local housing markets along and around the line of route between London and the West Midlands.
Simon Burns said:
HS2 is a vital scheme that will help rebalance our economy and generate economic growth. It will free up vital space on our railways for passengers and freight, generate hundreds of thousands of jobs and deliver better connections between our towns and cities.

However, we will do everything possible to minimise the effect on those living on the route. We are committed to fairly compensating those who are affected and I want to hear views on the generous and comprehensive measures we have set out.

This is a complex area which we are determined to get right. That is why we pledged to look again at how to help property owners - including consulting on a property bond - and that is exactly what we have done.
The proposals include:
express purchase - a streamlined system of purchasing properties that are within the safeguarded area - giving greater certainty to owner-occupiers closest to the line that the government will buy their homes at the full un-blighted value, along with additional compensation of 10% up to a value of £47,000 and reasonable moving costs
a long-term hardship scheme - for owner-occupiers who have strong personal reasons to move but cannot do so, other than at a significant loss because of HS2 - like the exceptional hardship scheme the government introduced in 2010, which is still operational, this would have no defined geographical boundary
two possible approaches to renting homes to their former owners following government purchase
The government is also consulting on 2 potential options which would provide further assistance in rural areas, these are:
property bonds - a transferable guarantee that the government would act as the buyer of last resort for those living close to the route
a voluntary purchase scheme - for owner-occupied properties within 120 metres of the route.
To support the consultation a series of information events for local communities will be held along the line of the HS2 Phase One route from London to Birmingham.
The previous consultation on measures to assist and compensate property owners took place from October 2012 to January 2013.
The government is now re-consulting on most elements of that consultation as well as additional measures. However, to avoid unnecessary delay there is no re-consultation on proposals for:
restoring confidence in the value of properties above tunnels
how we should seek to ensure the replacement of any social rented housing that is lost as result of HS2
Separate announcements will be made about these shortly. Meanwhile, the government has published a non-technical summary of the Impacts of tunnels in the UK (PDF, 1.35MB).
The consultation launched today (12 September 2013) will run for 12 weeks, closing on 4 December. Final schemes should come into operation by next summer.
HS2 and major projects media enquiries
Press enquiries 020 7944 3021
Out of hours 020 7944 4292
Switchboard 0300 330 3000
Published 12 September 2013