Press release
HS2 'safeguarded' in major step forward for scheme
HS2 route protected from future development.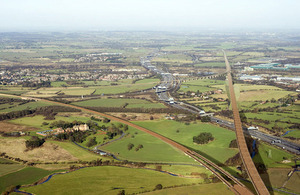 The proposed HS2 route between London and the West Midlands was today (9 July 2013) protected from future development which might conflict with the planned high speed line, Transport Secretary Patrick McLoughlin has announced.
The move - an important step in taking the scheme from the drawing board to construction - is known as 'safeguarding'.
It will also enable people living near the proposed HS2 route from London to the West Midlands to approach the government to buy their property under statutory Blight procedures. Successful applicants will receive the unblighted open market value of their property, plus 10% up to £47,000 and moving costs.
Patrick McLoughlin said:
HS2 is moving from the drawing board towards construction. Safeguarding is an important milestone for homeowners and for planning purposes. It shows we are determined to deliver this once-in-a generation opportunity to drive growth, generate jobs, and secure our country's future prosperity.

I understand the distress of those who live along the line of route and can assure people that we will process claims to purchase their property swiftly so that those who qualify can move as quickly as possible.

In the meantime we will also continue purchasing properties of those in exceptional hardship ahead of consulting on a comprehensive package of long term discretionary compensation measures.
Currently the only mechanism through which the government is buying properties on or near the HS2 route is through the Exceptional Hardship Scheme (EHS) for owner occupiers who can demonstrate that they have an urgent need to sell.
From today (9 July 2013), owner occupiers within the safeguarded area - typically a corridor 120 metres wide - can now serve a Blight Notice on the government asking that their home be purchased from them.
The government wants to introduce a full compensation scheme that is more generous than the law requires and will be re-consulting on a package shortly. In the meantime the EHS scheme will continue - alongside the statutory Blight procedures announced today (9 July 2013).
Safeguarding also protects the line of route from construction that conflicts with the Government's plans for the railway, allowing HS2 to be built with less disruption and cost.
Notes to editors
Information on compensation specifically aimed at those who own property within areas safeguarded for HS2, including application forms, is available at www.hs2.org.uk/safeguarding or by phoning the HS2 Ltd enquiries line on 020 7944 4908.
Safeguarding places a legal obligation on Local Planning Authorities to consult HS2 Ltd on undetermined planning applications for land within the safeguarded area. Ultimately, if considered necessary, the Transport Secretary is able to step in to direct the outcome. The land that has been safeguarded for HS2 has been determined in accordance with engineering need.
The proposal to issue safeguarding directions in respect of phase one of HS2 was consulted on from October 2012 to January 2013, and the decision to issue safeguarding directions has been made after consideration of the responses to that consultation.
A summary of the responses to the consultation, and a document setting out the government's decisions are available at www.hs2.org.uk/safeguarding.
A written ministerial statement was published today (9 July 2013) and is available.
Sections of the route in both Bromford and Ealing have not yet been safeguarded, pending a decision by the Transport Secretary on whether there should be bored tunnels in these locations.
HS2 and major projects media enquiries
Press enquiries 020 7944 3021
Out of hours 020 7944 4292
Switchboard 0300 330 3000
Published 9 July 2013