Projects creating jobs across England to benefit from locally-led funding
Projects that will create thousands of jobs across England can now apply for funding to get their scheme off the ground.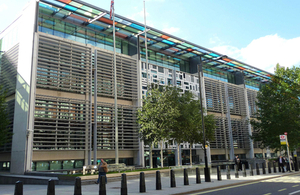 Applicants are being invited to apply for money to invest in projects from today (20 March 2015) that support innovation and boost businesses from development funding worth around £2.9 billion over 6 years.
The money from this latest round of the European Regional Development Fund is the most locally-led ever agreed for England.
The government has abolished the unelected regional quangos previously in charge of the schemes and instead given an important and pivotal role to Local Enterprise Partnerships and other local groups to shape how and where money is spent.
Local Growth Minister Lord (Tariq) Ahmad of Wimbledon said:
Local partners and organisations will play a key role in determining the priorities for directing this money to where it will be best used for ensuring growth and innovation across our local communities.

This new round of funding will help many new and growing businesses to create jobs that will benefit the wider local area and the economy in general.
George Eustice, Environment Minister, said:
The rural economy is hugely important to this country and we are committed to boosting enterprise across our countryside by encouraging growth, creating jobs and supporting our long term economic plan. It is great news that the growth programme is opening - providing key funding to help rural businesses thrive.
Spending funds wisely is central to the government's approach of getting maximum value for the public purse especially as every euro received from the fund has come from UK taxpayers' money.
Further information
To ensure local areas can fully exploit the range of European programmes open for the 2014 to 2020 period in a coordinated way, government has brought them together in a single package called the 'European Structural and Investment Funds Growth Programme'
The money making up this European growth programme fund is around £6 billion (€7.2 billion) and will be open for applications in the coming days. It includes the European Regional Development Fund (€3.6 billion), the European Social Fund (€3.4billion) and part of the European Agricultural Funds for Rural Development (€221 million).
The main priorities for this programme are research and innovation, supporting and promoting small to medium sized enterprises, creating a low carbon economy, skills, promoting employment and reducing social exclusion.
The operational arrangements for the Development Fund have been agreed with the European Commission in principal and organisations seeking funding can find out more about the programme and apply for investment at www.gov.uk/european-growth-funding.
Read the complete written ministerial statement on the launch of the European Regional Development Fund Operational Programme for 2014 to 2020.
Office address and general enquiries
2 Marsham Street
London
SW1P 4DF
If your enquiry is related to COVID-19 please check our guidance page first before you contact us - https://www.gov.uk/guidance/coronavirus-covid-19-guidance-for-local-government.

If you still need to contact us please use the contact form above to get in touch, because of coronavirus (COVID-19). If you send it by post it will not receive a reply within normal timescale.
Published 20 March 2015