Press release
Progress on clearer pricing in supermarkets
Major supermarkets in the UK have acted to make pricing clearer and simpler for shoppers following a meeting with the Consumer Minister.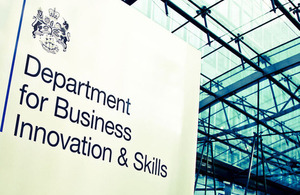 Major supermarkets in the UK have acted to make pricing clearer and simpler for shoppers following a meeting with Consumer Minister Jo Swinson earlier this year.
At the meeting in May, Jo Swinson set the supermarkets the challenge of improving the way they displayed the unit price - the price consumers pay for a product per unit of weight in addition to the actual selling price.
Visiting a Sainsbury's store in central London today (4 December 2013), the Minister welcomed some of the positive developments that have been made.
all 10 supermarkets are committed to displaying a consistent unit price across similar products. For example, Sainsbury's has changed 30,000 shelf edge labels over the last 18 months to make things clearer for shoppers; Morrisons has changed 2,000 shelf edge labels and Asda and M&S are reviewing their practices
6 out of the 10 supermarkets include the unit price on promotions for multi-buys of the same item. For example, Iceland displays a normal and an offer price on promotion labels, Lidl will follow suit next year and Aldi displays the unit price for reduced products
all 10 supermarkets are improving the visibility of the labels on supermarket shelves. For example, both Tesco and Waitrose are increasing the font size of their labels making them easier to see while the Co-operative is also stripping out unnecessary information for consumers such as barcodes
At a time when shoppers want to make every penny go further this Christmas, they will be counting on getting the best bargains. A recent survey from the consumer group Which? found that while 8 in 10 people look out for offers in supermarkets, 3 in 10 have regretted buying products they only bought because they were on offer.
Everyday products where the unit price is often confusing include washing powder when you can buy it as powder, liquid or tablets; teabags, ketchup, mayonnaise and ice cream. For example, mayonnaise and ketchup can be unit priced per 100 grams or in millilitres.
Consumer Minister Jo Swinson said:
I've long campaigned for supermarkets to display clearer and simpler information for consumers. It can be hard for households to work out the best deal when food is sometimes priced individually – like a mince pie – or soups and sauces which can be priced by both the gram and millilitre.

This year around £74 billion will be spent in the 10 largest supermarkets which make up around half the market. So it's a win-win situation if the big 10 are giving consumers a fairer way to understand the prices they're paying.

It is great that they have committed to greater consistency and clearer labels. We will now look at the current legislation to see if it's preventing supermarkets from making further improvements.
Sainsbury's Group Commercial Director Mike Coupe said:
We know this is a really important issue for customers. We've now increased the size of nearly all of our shelf-edge labelling to make it easier to understand and help people compare products. We've also worked with the RNIB to improve our labelling for visually impaired customers.

It's part of our aim to make things simpler for customers. We hope that other retailers will follow our lead on this important issue.
British Retail Consortium Director for Business and Regulation Tom Ironside said:
We are delighted that the Minister recognises the commitment made by our members to give consumers clear and accessible information about the products they buy. Our food retailers will continue to work with BIS to build on recent achievements, ensuring that the approach is as coherent and consistent for the consumer as is possible.
RNIB's Money and Shopping Stream Lead Nicky Peachment said:
Going shopping is an activity which most people take for granted, but for blind and partially sighted people it can create a range of challenges.

RNIB works with all the major supermarket chains, supporting them to make improvements to their stores. This includes making sure labelling and pricing of products are accessible to people with sight loss.
All of the 10 major supermarkets are committed to making sure that, where it is in their control, unit pricing is consistent across brands and within their own brands. The government is also calling on brand manufacturers to follow the supermarkets' lead and take a consistent approach to measurements on labels.
Notes to editors:
large print text throughout the store but preferably not block capitals
all staff to be made aware of products which have Braille labelling e.g. pharmaceuticals and bleaches
introduce larger font sizes on own brand packaging for important information such as expiry dates, cooking procedures etc
introduce colour contrast packaging which helps consumers with a visual impairment that will also suit the needs of mainstream shoppers
introduce large print labels on clothing detailing relevant information (eg size, washing instructions)
introduce audio labelling. This would enable people with an audio labeller, such as the RNIB PenFriend, to identify the goods they have purchased when they get home
if staff provide assisted shopping, ensure the customer is advised of all relevant information on the goods they require such as different brands, varieties, prices, special offers etc.
6.The government's economic policy objective is to achieve 'strong, sustainable and balanced growth that is more evenly shared across the country and between industries'. It set 4 ambitions in the 'Plan for Growth', published at Budget 2011:
to create the most competitive tax system in the G20
to make the UK the best place in Europe to start, finance and grow a business
to encourage investment and exports as a route to a more balanced economy
to create a more educated workforce that is the most flexible in Europe
Work is underway across government to achieve these ambitions, including progress on more than 250 measures as part of the Growth Review. Developing an Industrial Strategy gives new impetus to this work by providing businesses, investors and the public with more clarity about the long-term direction in which the government wants the economy to travel.
Published 4 December 2013