News story
Programme for Government: Consumer Protection
This is a response to the public comments received on 'The Coalition: Our Programme for Government' on Consumer Protection.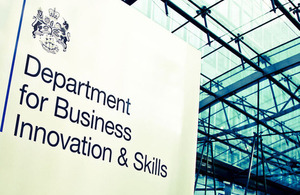 **The Government believes that action is needed to protect consumers, particularly the most vulnerable, and to promote greater competition across the economy. **
A high number of respondents wanted to see clearer food labelling with a desire for greater information on the origins of food as well as its nutritional content. Clearer origin labelling is a key commitment in the Government's Programme. The Government knows that consumers are particularly concerned about meat, dairy and meat products and that is why we have already started working with the food industry, retailers and others to encourage better labelling and greater adherence to the Food Standards Agency's best practice guidance.
The Government recognises that the clear presentation of information on food labels is essential to help consumers make informed purchasing decisions. To help, the Food Standards Agency has produced guidelines on clear labelling and the criteria that affect clarity. The UK is currently negotiating in Europe a new regulation that should further improve information on food labels. The UK is also pushing in Europe to introduce mandatory nutrition labelling on all pre-packed foods throughout the EU. This will help in enabling consumers choose a healthier option.
There was also a lot of concern expressed on the issue of interest rates on credit and store cards. The cost of borrowing on credit and store cards has risen markedly in recent years, despite falls in the base rate of interest. We believe that more can be done to make this form of borrowing more affordable to consumers. That is why we have proposed to give regulators new powers to define and ban excessive interest rates on credit and store cards.
We will be exploring the issue of interest rate caps in more detail as part of our Consumer Credit and Personal Insolvency review which will be launched in the autumn. This review will be an opportunity to consider consumer credit policy and will cover all phases of the consumer credit lifecycle including the decision to borrow, the lifetime of a loan and what happens when things go wrong.
Links
Video response from Cabinet Office Minister Oliver Letwin and Chief Secretary to the Treasury Danny Alexander
Published 30 July 2010