Press release
Professor Malcolm Grant confirmed as chair of NHS commissioning board
Health Secretary responds to announcement of Professor Malcolm Grant as the Chair of the NHS Commissioning Board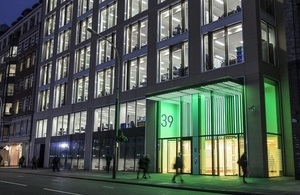 Professor Malcolm Grant has today been confirmed as the Chair of the NHS Commissioning Board.
Following his appearance before the Health Select Committee yesterday, Malcolm Grant is now expected to take up the post later this month.
Health Secretary Andrew Lansley said:
"I am delighted that Professor Malcolm Grant has been confirmed as Chair of the NHS Commissioning Board.
"Professor Grant's role will be to take forward the plans to establish the Board and its structure and provide strategic leadership and vision for NHS commissioning. This is an incredibly important role which carries significant responsibilities and I look forward to him bringing his characteristics of leadership, independence and strategic direction to the Board."
Sir David Nicholson, Chief Executive of the NHS, said:
"There is much to be done in the creation of the NHS Commissioning Board and the commissioning system and I look forward to taking that work forward with Professor Grant and with our colleagues right across health and social care."
The NHS Commissioning Board's central role will be to drive improvement in results for patients, ensuring a fair and comprehensive service across the country. It will also promote the NHS Constitution and champion the interests of patients, using choice and information to empower people to improve services.
Accountable to the Secretary of State via an annual mandate, the NHS Commissioning Board will be an independent, statutory body, free to determine its own organisational shape, structure and ways of working.
The Secretary of State will remain responsible for promoting a comprehensive health service; and retains the ultimate accountability for securing the provision of services, through his relationship with NHS bodies.
The NHS Commissioning Board will become officially operational subject to the Health and Social Care Bill.
ENDS
Notes to editors
For media enquiries please ring the Department of Health newsdesk on 0207 210 5221.

Professor Grant currently holds the post of President and Provost of UCL (University College London).  He is a qualified barrister and academic lawyer with wide experience of public service, including the Local Government Commission, Higher Education Funding Council for England and as a UK Business Ambassador.

The appointment has been made in accordance with the code for public appointments, issued by the Commissioner for Public Appointments.  All appointments are made on merit and political activity plays no part in the selection process.  However, in accordance with the original Nolan recommendations, there is a requirement for appointees' political activity (if any declared) to be made public.  Professor Grant has declared no political activity.

Professor Grant holds the following other public appointments:
Ditchely Foundation (Governor and Trustee, 2002 -);
London Business School (Governor 2003 -);
New London Orchestra (Patron 2005 -);
Great Britain - Malaysian Society (Governor 2005 -);
Economic and Social Research Council (Board Member 2009 -);
British Business Ambassador (2008, PM appointment, reappointed in 2010);
Member of Hong Kong Grants Committee (Member 2007 - and Chair of Research Committee 2007 -).
Member of the Higher Education Funding Council for England (HEFCE) board (2008 - )
This appointment was offered at 2 days a week for up to £63k, final terms have yet to be confirmed.

For further information on the NHS Commissioning Board:http://healthandcare.dh.gov.uk/the-role-of-the-nhs-commissioning-board/

For further information on the appointment process of the Chair:http://publicappointmentscommissioner.independent.gov.uk/codeofpractice/index.html

For further information on the Health and Social Care Bill:http://healthandcare.dh.gov.uk/factsheets/
Published 19 October 2011