Press release
Professor Dame Joan Higgins re-appointed as Chair of the NHS Litigation Authority
Professor Dame Joan Higgins has been re-appointed Chair of the NHS Litigation Authority for a 2nd term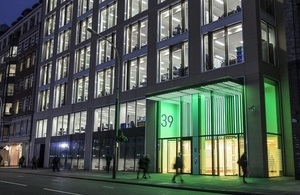 Professor Dame Joan Higgins has been re-appointed Chair of the NHS Litigation Authority.  She will start her second term of five years on 1st April 2012. 
Health Secretary Andrew Lansley said:
"Professor Dame Joan Higgins' reappointment is great news and I'm delighted she has agreed to serve another term chairing the Board. Her track record of success and commitment to improving the safety of patients will be invaluable to The NHS Litigation Authority." 
Chief Executive Steve Walker said:
"I'm delighted that Professor Dame Joan Higgins has been reappointed as our Chair for a second term.  During her time with us, Professor Dame Joan Higgins has provided us with exemplary leadership and a fresh perspective on our work, especially in relation to learning from mistakes made in the provision of NHS care.  As I prepare to leave at the end of March, this re-appointment provides the Authority with continuity at the highest level during a period of change and challenge for our organisation."
Professor Dame Joan Higgins said:
"I am delighted to have been asked by the Secretary of State to serve a second term as Chair of the NHS Litigation Authority. It is a well established organisation with a good reputation and I look forward to working with my colleagues to build on these strengths. As claims numbers rise we will need to work closely with NHS organisations to ensure that risk is minimised and that we provide a sensitive and timely service to patients when things do go wrong."
The NHSLA handles negligence claims and works collaboratively with other national bodies and with NHS bodies to improve risk management practices, promote patient safety and to minimise harm.
The Authority administers schemes set up under section 71 of the National Health Service Act 2006 to allow NHS bodies in England to pool the costs of any injury, loss or damage to property and liabilities to third parties from the carrying out of their business.
ENDS
Notes to editors
For media enquiries please ring the Department of Health newsdesk on 0207 210 5221.
1. As well as her work with the NHSLA, Prof Higgins is also Chair of the Queens Counsel Selection Panel and has been a member of the House of Lords Appointments Commission for the Ministry of Justice since 2008. 
2. Formerly Prof Higgins was Chair of The Christie Hospital NHS Foundation Trust, (2002-2007), Chair of Manchester Health Authority (1996-99) and Regional Chair, NHS Executive North West (1999-2001). She chaired the Patient Information Advisory Group from 2001-2010.
1. Prof Higgins is a Doctor of Philosophy and has a Postgraduate Diploma in Social Administration. She is an elected Academician of the Academy of Social Sciences (2008), an Honorary Fellow, Institute of Health Record Information and Management, (2000) and Honorary Fellow of the Faculty of Public Health Management (1996).  She was President of the European Health Management Association from 2001-2003.
3. This appointment is made in accordance with the code for public appointments, issued by the Commissioner for Public Appointments.  All appointments are made on merit and political activity plays no part in the selection process. However, in accordance with the original Nolan recommendations, there is a requirement for appointees' political activity (if any declared) to be made public. Professor Dame Joan Higgins has declared no political activity.
4. Professor Higgins holds no other Ministerial public appointments
5. The role is for a 5 year term and she will receive £36,779 per annum for 2 days a week.
6. The NHS Litigation Authority was established on 21 November 1995 by Regulations under section 28 of the National Health Service Act 2006. For further information please visit the NHS Litigation Authority website.
Published 9 January 2012