Press release
Private sector experts appointed to maximise value from government suppliers
Newly appointed Crown Representatives will improve commercial relationships with suppliers on behalf of the government and bolster savings.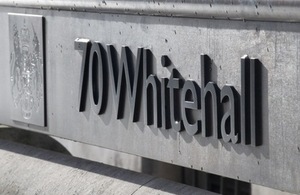 CAB 043-13
Six new senior business leaders have been appointed to ensure that government gets the best possible value from government contracts, Minister for the Cabinet Office Francis Maude announced today.
The 6 Crown Representatives have been chosen to work alongside departments to engage early with suppliers, improve relationships and negotiate the best contracts on behalf of government. Together, they have a combined 150 years of specialist commercial insight from working in the private sector and FTSE 100 companies. The programme has already delivered hundreds of millions of pounds in savings since 2010. For example, in 2012, a Crown Representative working with HMRC helped negotiate a new deal with one of government's largest IT suppliers that will save an estimated £200 million by 2017.
Francis Maude said:
We're serious about equipping the Civil Service with the right skills to help the UK compete in the global race. That's why we've recruited experts from the business world, using their commercial insight to work alongside departments to get the most from relationships with our largest suppliers.

We are spending less overall, but spending taxpayers' money better. Our 6 new recruits have a big job ahead of them to build on the £800 million saved by renegotiating expensive contracts in the first 10 months of this government – I'm confident they will put the full weight of their expertise behind the challenge.
Bill Crothers, Chief Procurement Officer and Commercial Director General said:
We know we can only drive efficiencies if we act as a single customer to maximise our buying power and be a better client.

Our new Crown Representative appointments will bolster the impact of work departments are doing to identify savings and demonstrate a commitment to improving supplier relationships and performance – an objective which has already made an immediate difference to how government does business.
The Cabinet Office's Efficiency and Reform Group continues to attract senior executives through its challenging programme of delivering efficiency, reform and growth in some of the most complex commercial operating environments.
Notes to editors
The list of six new Crown Representatives are:
James Hall
James Hall spent 30 years with Accenture, where he became UK Managing Partner. He left the firm in 2006 to join the Home Office as a Director General, a role he held for 4 years. Since 2010 his career has diversified to encompass roles such as chair of Save Britain's Heritage, Member of the Court of the University of Aberdeen and Chair of Carbon Clear Ltd.
Graham Jackson
Graham Jackson has worked in the Procurement/Supply Chain/Commercial sector for 32 years, mostly in IT and Telecoms. For 7 years he worked in the oil industry, where his last post was that of Director European Supply Chain. His last permanent full time role was as UK & Ireland head of commercial contracting for Compaq (Now HP), in which capacity he was responsible for all procurement and sales contracting. Since 2001, he has been an interim manager for businesses like Verizon, Telefonica and Sophos.
David Jephson
David Jephson retired in 2010, following a 30 year career in IT. His career encompassed a range of national and international brands including British Steel, Mars, Coca-Cola Schweppes Beverages, Eastern Electricity/TXU and Imperial Tobacco. At Imperial he led the global IT function where he devised and executed a strategy to successfully integrate IT systems and drove costs down to just 1.2% of revenue. At TXU, over a 3-year period, he reconfigured the entire IT infrastructure, reducing headcount from over 800 to just under 200 and cutting total IT costs by over 60%.
Ian Tyler
Ian Tyler was a director of Balfour Beatty PLC from 1999 until March 2013. From 2002 he was Chief Operating Officer and became Chief Executive in January 2005. Ian joined Balfour Beatty PLC in 1996 from the Hanson Group where he was finance director of ARC Ltd, one of its principal subsidiaries. In 2011 he was appointed as non-executive director of Cable & Wireless Communications PLC and will join BAE Systems PLC as non-executive director in May 2013. He was formerly a non-executive director of VT Group PLC. He is president of Construction Industry Relief, Assistance and Support for the Homeless Ltd, the construction and property industry charity for the homeless. He is a chartered accountant.
Michael Wade
Michael Wade has a background in the insurance sector, which he joined in 1975, working for an aviation syndicate at Lloyd's. In 1980 he established Holman Wade, which specialised in reinsurance contracts for members of Lloyd's. He served on the Council & Committee of Lloyd's between 1988 & 1992. In 1993 he formed CLM Insurance with Sir Peter Parker. From 2000 – 2005 he ran Rostrum Group, his third successful start-up. Since 2005 Wade has held a portfolio in the insurance space, including Chairing Bowood Holdings, Optex Group and Besso Insurance Group. He resigned executive interests in insurance in 2012.
Rob Wilmot
Rob Wilmot was one of the three founding executives at Freeserve, which was the UK's largest internet company (now part of Orange). He was the founding CTO and left the company in 2001. Since then he has invested in a number of ventures and sits on several corporate and public sector boards including bcsAgency (a marketing and communications consultancy), Crowdicity (open innovation and crowdsourcing services), the Government Procurement Service and the University of Bradford, where he is a Visiting Fellow.
Published 29 April 2013