News story
Private risked life to save fellow soldier
A soldier who removed his helmet and body armour, under attack, to carry a stricken comrade to safety has been commended for his bravery.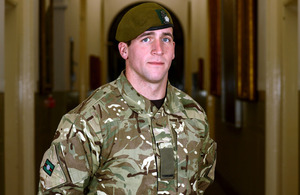 While on operations in Helmand province, southern Afghanistan, during Operation Herrick 16 last year, Private Lewis Murphy, from the Yorkshire Regiment, was part of a team tasked with finding 4 insurgents who had abducted an Afghan police officer.
Following them across the Helmand River into a neighbouring company's area through horrendous terrain comprised of dense vegetation and thick mud, and with visibility limited to less than 1 metre at times, night began to fall as they continued their stealthy progress.
Suddenly, the insurgents opened fire with machine guns from less than 10 metres away. A hail of bullets struck 2 of Private Murphy's fellow soldiers; 1 suffered a serious gunshot wound to the neck, another having a lucky escape as a round struck his body armour.
Fighting for their lives and being assailed by machine gun fire and grenades from various angles the platoon commander stumbled upon an insurgent just a few metres away and was hit in the leg by enemy fire. Although he was able to carry on, this increased the pressure on the team.
Private Murphy, aged 24 from Middlesbrough, said:
At first, I didn't know how serious it was, but when you realise there are casualties everything changes. I was in the swamp and couldn't see the enemy. My first reaction was to get my sight up to look for them.
As the casualty extraction began it was apparent the soldier who had been shot in the head was critically injured. A medical helicopter was called and a clear landing site was identified on a sandbank some 20 metres away.
Between the soldiers and the helicopter was a deep river running above chest height. Realising that carrying a stretcher across the river would not be practical, Private Murphy made an instant and life-threatening decision.
Removing his own protective equipment, including body armour and helmet, he put the casualty on his back and began to wade and swim across the 20 metres of thick mud and water. He said:
It was instinctive. I didn't think about the danger of it, I just thought if I leave my equipment on I'll drown.
The physical exertion of carrying his comrade, who still had equipment on totalling well over 100 kilograms, was such that Private Murphy began to falter halfway across. He said:
I remember being so angry with myself. I screamed out and thrashed the water in a rage, asking myself why I couldn't do it.
Inspired by his selfless act of humanity, others rushed to assist and the team managed to get the casualty to the helicopter:
After running to the helicopter with him in my arms for another 80 metres, I was totally shattered. I've never felt so drained in my life.
Private Murphy has been awarded the Queen's Commendation for Bravery (QCB) for his actions. His citation states:
Murphy displayed the highest levels of leadership and bravery under immense danger against a heavily armed, tenacious and determined enemy.
The QCB is granted for bravery entailing risk to life.
The announcement of Private Murphy's award was made with the release of the latest Operational Honours and Awards List which includes 118 personnel. The awards are for actions roughly during the period April to September 2012 on Operation Herrick 16.
Private Murphy is 1 of 3 QCB recipients on the list.
Published 25 March 2013