Press release
Private house designed by Richard Rogers for his parents is listed grade II* by Heritage Minister Ed Vaizey
A private house in Wimbledon, with separate studio/housekeeper's flat, designed by the internationally acclaimed architect Lord Rogers - and his then wife Su - for his parents, has been listed by Heritage Minister Ed Vaizey.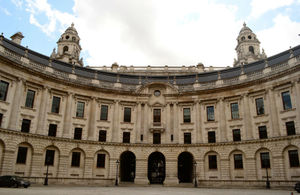 016/2013
The decision, on the advice of English Heritage, to list the house – 22 Parkside - at Grade II* puts it in the top eight per cent of all listed buildings in England. Dating between 1968-1970, it is regarded by Richard Rogers himself as the best example of his practice's earlier work, with a clear link to the Pompidou Centre, which was developed at the same time.
Ed Vaizey said:
This is an outstanding and innovative example of a high-tech steel frame house that has clearly stood the test of time. Though many will always associate Lord Rogers with iconic works like the Lloyds Building in London, the Pompidou Centre in Paris and the National Assembly of Wales in Cardiff, this much earlier building is highly significant too – a masterpiece from one of the most imaginative and exciting periods in private house building in this country.
English Heritage designation team leader, Veronica Fiorato, added:
22 Parkside, built in 1969-70 by Richard and Su Rogers for Richard Rogers's parents, is an important early work by a highly significant architectural practice. It is an early example in Britain of a versatile High-Tech steel-framed house, experimental in its use of materials and techniques.
Richard Rogers said:
Overlooking Wimbledon Park, and yet invisible from the street, is a single-storey modern house built for my parents, a potter and a physician, and designed by Su Rogers and me. I was born in Italy and spent my early life surrounded by beautiful, historic and modern architecture and this has had an effect on all my work. My mother loved to cook and so the open plan kitchen is the heart of the house where family and friends could gather, very much in the Italian way.
The approach used to design this building inspired much of my future work, including the Centre Pompidou, designed with Renzo Piano, and Lloyd's of London, which has now been Grade I listed. The house is made up of prefabricated components, principally steel and glass, which can be adapted to changing requirements. Today, my son Ab Rogers and his family live and work in the house and have adapted it to suit their needs.
Notes to Editors
Copies of the Inspector's report can be obtained from English Heritage press office on 020 7973 3250.

When a building is "listed" it is recognised as being of special architectural or historic interest. Listed status protects a building against unauthorised demolition, alteration or extension. It ensures that its special interest is taken into account when proposals are put forward which affect its character or appearance.
Press Enquiries: 020 7211 2210
Out of hours telephone pager no: 07699 751153
Public Enquiries: 020 7211 6000
Published 25 February 2013