Prince of Wales discusses low carbon economy
His Royal Highness The Prince of Wales discusses climate change and moves towards a low carbon economy with Spanish business leaders.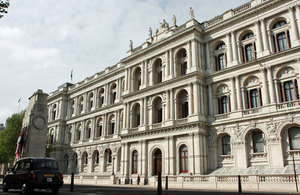 The meeting organised by the Fundacion Entorno-BCSD España and the Fundacion del Pino will draw together leaders of some 20 Spanish and European companies to identify opportunities for green growth and low-carbon development in Spain and the EU, the role for European business in driving the debate forward, and the policies and market mechanisms needed in Spain and the EU to kick-start a low-carbon economy.
His Royal Highness will hear the views of senior Spanish business people on the challenges ahead and will discuss the business opportunities of a low-carbon approach.
The meeting comes as a new report by UK Trade & Investment and the Economist Intelligence Unit highlights the opportunities for Spanish and UK companies. It reveals that two-thirds of businesses now see climate change as an opportunity rather than a risk.
More than 700 global executives from a range of sectors across Western Europe, Latin America, North America, Asia-Pacific, and the Middle East and Africa were surveyed for the report 'Adapting to an uncertain climate, a world of commercial opportunities'.
According to the report, 90% of businesses have been directly affected by climate change in the past three years. Some 64% see climate change as a business opportunity to grasp, 31% are actively adapting their business in response, and 19% are already generating revenue from such opportunities.
The UK and Spain are among countries leading the pressure for tougher European Union targets for tackling climate change, and are backing proposals for a 30% cut in carbon dioxide emissions by 2020, compared with the current 20% target.
UK Trade & Investment's director in Spain, Martyn Warr, said: "Climate change presents a huge challenge, but it also offers huge opportunities. The UK is open to Spanish companies who want to invest in a location that already houses many of the world's experts, whether it is in forecasting and consulting services, or designing and developing environmental goods."
The UK's low carbon environmental goods and services market is the sixth largest in the world, growing by 4.3 per cent in 2009 and now worth £112 billion. It employs over 900,000 people, expected to rise to 1.2 million by 2015. Spanish companies such as Iberdrola and Gamesa are already investing heavily in renewable energy resources in the UK.
The global market value of low carbon environmental goods and services is over £3.2 trillion and is expected to grow again by half by 2015. Research indicates that adapting to climate change now will be more cost effective than adapting later. Each euro spent on adaptation represents four times its value in potential damage avoided, according to the OECD.
The roundtable is expected to be attended by leaders from Ferrovial, Iberdrola, Campofrio, ENCE, Holcim, AENA, Abengoa, Kingfisher Spain, Acciona, Alstom Power, Deutsche Telekom, CEMEX, Cordoniu, FCC, Santander and Gonzalez Byass.
UK expertise in tackling climate change:
The UK has world class financial and professional services, and specialist consultancies in carbon measurement and management. It leads the world in assessing carbon footprints, and in offering strategic advisory services on removing carbon from entire supply chains.
The UK leads on sustainable construction, including new techniques and technologies for adaptation to climate change. UK architecture and engineering firms are creating and designing for sustainable cities across Asia and the Middle East; and UK standards, such as BRE Environmental Assessment Method (BREEAM), are ensuring best practice in sustainable design and achieving world class environmental performance from buildings.
The UK is home to some of the leading centres of excellence in climate science including the Met Office Hadley Centre and the Tyndall Centre. It is also a world leader in flood forecasting.
London is the global centre for the £45 billion industry of weather derivatives.
Published 31 March 2011