Prime Minister visits Libya to offer aid and support to new government
Prime Minister David Cameron and French President Nicolas Sarkozy today met with members of the National Transitional Council (NTC).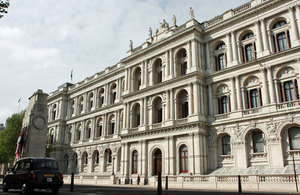 The Prime Minister and President Sarkozy are the most senior Western leaders to visit the north African state since the Qadhafi regime fell. They were accompanied by Foreign Secretary William Hague.
He arrived in the Libyan capital Tripoli on board an RAF plane, met members of Libya's government, including its head Mustafa Abdul Jalil and chairman Abdul Jalil.
The British and French leaders also visited a hospital and a military college to meet civilians injured by fighting.
The Prime Minister announced a further package of UK assistance to support the Libyan-led process to becoming free, democratic and inclusive.
He pledged that Britain will:
deploy, for six months, UK military team to advise the NTC on security
make available Libyan assets totalling approximately £600m to the interim authorities
make 50 places available in UK specialist hospitals for critically ill Libyans
provide £600,000 for clearing landmines across Libya
give £1m to fund civilian experts to assist in weapons disposal
fund additional communications equipment totalling £60,000 for Libyan police in Benghazi
provide forensic advice, if requested, to help gather and preserve evidence of human rights abuses
Speaking at a press conference in Tripoli, the Prime Minister told the NTC and the Libyan people:
We want to help you diplomatically, militarily, economically and with your development. We are your friends, but this is your country, your leadership, your plan.
The Prime Minister joined President Sarkozy in saying that the NATO commitment to the Libyan people was not over, and that protecting civilians was a priority.
A new resolution at the UN Security Council tomorrow will provide a framework for international support to the Libyan people, including mechanisms for unfreezing assets.
Libya will resume its seat in the UN next week.
Published 15 September 2011