Prime Minister visits British RAF Libya crews in Italy
Prime Minister David Cameron passed on "heartfelt thanks from the British public" to RAF personnel engaged in Libya during a visit to Gioia del Colle Italian military air base on 4 April.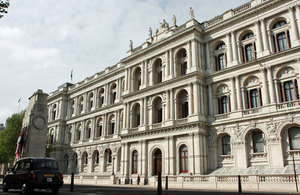 During the visit, the Prime Minister met over 500 men and women of the British contingent stationed at the air base and engaged in the NATO "Unified Protector" operation in Libya. The base has been the temporary home for the last two weeks for British Typhoon and Tornado fighters enforcing UN Security Council resolution 1973.
Speaking to servicemen and women, the Prime Minister said the crews involved had saved thousands of lives in Benghazi and other parts of Libya by preventing assaults by Colonel Qadhafi's forces on civilians and rebel soldiers.
He said:
"The whole country should be proud of what they have done. They have responded incredibly quickly. They have flown many sorties. They have been extremely successful in holding back Qadhafi's forces.
"Just over the weekend, they have destroyed 10 armoured vehicles and three tanks and they have flown a huge number of missions very rapidly and, as ever, very brilliantly."
The Prime Minister also announced the deployment of four more Tornado fighters to the base to assist the military effort, taking the total deployment to 10 Typhoons and 12 Tornados engaged in enforcing a no-fly zone and carrying out ground attacks respectively.
He took the opportunity to personally thank the Italian Under Secretary of State for Defence the Hon.Guido Crosetto, the Italian Air Force Chief of Staff General Giuseppe Bernardis, and Colonel Giovanni Balestri, Commander of the base of Gioia del Colle, for the work carried out in the past weeks and the precious support offered by Italy to the British contingent.
Published 5 April 2011