Press release
Prime Minister visits BMW's Munich base
Prime Minister David Cameron visited the BMW production plant during a short visit to Bavaria to discuss EU reform with German colleagues.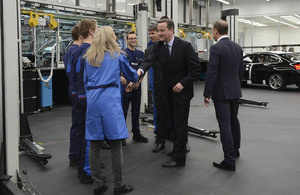 As part of a short visit to Bavaria to discuss European Union reform with German colleagues, today the Prime Minister toured the BMW production plant in Munich. During the visit he met 3 British workers based at the plant, along with a group of apprentices.
The British automotive industry has undergone an extraordinary revival in the last decade and part of that has come from German investment – principally in Oxford – where the combination of German investment and British craftsmanship has helped rebuild Mini and its reputation.
BMW is one of the largest German investors in the UK, with 7,000 direct jobs, contributing over £1 billion to the UK's automative supply chain and £1.2 billion each year to UK GDP.
Speaking after the visit, the Prime Minister said:
BMW is a great example of how working together creates jobs and opportunities that benefit both our countries. I am incredibly proud that so many BMWs roll off production lines with engines made in the UK.

I firmly believe the EU is stronger with Britain, and that Britain will be at its strongest in a reformed EU.
Dr Ian Robertson, BMW Director for Sales and Marketing, said:
The UK has the most diverse car industry in Europe and is the fourth largest market of BMW Group worldwide.

We export £2.4 billion worth of cars and engines each year with around 80% of our production going to overseas markets.

From an industry perspective we would therefore regret seeing the UK leave the EU.

BMW Group has invested over £1.75 billion in the UK since the year 2000 across its four manufacturing plants and sources £1.2 billion worth of goods and services from UK suppliers annually.

Together with our dealer network, we employ over 24,000 people directly while supporting nearly 50,000 UK jobs in the UK. In this context we believe it is advantageous for the UK to remain in the EU and to continue to be an active and influential member.
Published 7 January 2016