Press release
Prime Minister targets overseas funds with new inward investment body
A new one-stop-shop has been set up to help international investors identify and fund regeneration opportunities in the UK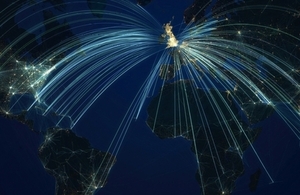 The Prime Minister made the announcement in his speech at the Lord Mayor's Banquet last night (11 November 2013).
The Regeneration Investment Organisation (RIO) will be administered by UK Trade and Investment, with an independent advisory board comprised of big hitters from British business and government and chaired by former Lord Mayor of the City of London Sir Michael Bear.
Members include Argent Managing Partner David Partridge, St Modwin CEO Bill Oliver, Macquarie's Jonathan Harris, and Professor Michael Parkinson of Liverpool University.
RIO will direct investors to credible, UK industry-backed development opportunities throughout the country, helping boost international investor confidence and ensuring good local projects get the investment they need to succeed.
Speaking last night the Prime Minister, David Cameron said:
I am delighted that Alderman and former Lord Mayor Sir Michael Bear has agreed to chair a new Regeneration Investment Organisation as part of UK Trade and Investment.

This will act as a one-stop-shop for our major inward investment opportunities - with £100 billion of possible projects on the table.

These projects won't just mean new jobs in London or the South East - but right across the whole country.

And the first deal is just days away to boost regeneration in places like Liverpool, Salford, Sheffield and Leeds.
Sir Michael Bear said:
We have a really strong supply of regeneration projects in the UK - over £100 billion in capital value. But currently the offer is fragmented with delays and it's difficult for investors to navigate.

The Regeneration Investment Organisation provides a great opportunity to announce a radical new approach to helping boost investment into the UK and provides a fantastic way of helping investors to find a credible pipeline and range of UK development opportunities and therefore get money into good projects and enable growths across the regions.
Recent international investment secured by UKTI include the Battersea Power Station project, Chinese investments in London's Nine Elms and Royal Albert Dock, and Chinese investment into Manchester through Manchester City Airport. The RIO will build on this success by creating an easier point of entry for investors and creating stronger links and better support for new projects throughout the UK.
Notes to Editors
For non media enquiries the Regeneration Investment Organisation can be contacted through Nahid Majid Chief Operating Officer

The RIO board members are: Michael Newey, RICS President 2013-2014; John Herbert, Global Head of Real Estate & Hospitality, HSBC; Jonathan Harris, Senior MD Real Estate Group in Macquarie Capital EMEA; Jon Milward, Partner, Deloitte; David Partridge, Managing Partner, Argent; Bill Oliver, CEO, St Modwen; Professor Michael Parkinson CBE, Liverpool University; Core Cities; Sir Howard Bernstein, Chief Executive, Manchester City Council; Sir Edward Lister, Deputy Mayor, GLA; Stephen Dance Head, Infrastructure UK; Representatives from the Devolved Administrations.

In the 2012 Autumn Statement, UKTI was awarded an additional £70 million for each of 2013/14 and 2014/15, enabling the recruitment of more international trade advisers around the country, expansion of existing services including the Trade Access Programme (TAP) and the Overseas Market Introduction Service (OMIS), and support to expand the range of assistance available to UK companies through overseas British chambers of commerce.

The government's economic policy objective is to achieve 'strong, sustainable and balanced growth that is more evenly shared across the country and between industries'. It set 4 ambitions in the 'Plan for Growth', published at Budget 2011:

to create the most competitive tax system in the G20
to make the UK the best place in Europe to start, finance and grow a business
to encourage investment and exports as a route to a more balanced economy
to create a more educated workforce that is the most flexible in Europe
Work is underway across government to achieve these ambitions, including progress on more than 250 measures as part of the Growth Review. Developing an Industrial Strategy gives new impetus to this work by providing businesses, investors and the public with more clarity about the long-term direction in which the government wants the economy to travel.
5.UK Trade & Investment (UKTI) is the government department that helps UK-based companies succeed in the global economy. We also help overseas companies bring their high quality investment to the UK's economy – acknowledged as Europe's best place from which to succeed in global business. UKTI offers expertise and contacts through its extensive network of specialists in the UK, and in British embassies and other diplomatic offices around the world. We provide companies with the tools they require to be competitive on the world stage. For more information on UKTI, visit www.ukti.gov.uk or visit the online newsroom at www.ukti.gov.uk/media.
Published 12 November 2013