Prime Minister sends St George's Day best wishes
Flag of England's patron saint flies above Number 10 Downing Street to mark St George's Day.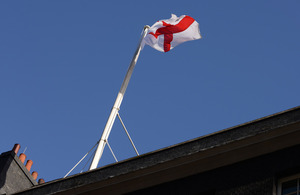 Prime Minister David Cameron said:
I send my best wishes to everyone celebrating St. George's Day today.

I think it's great that in recent years it has become more and more popular to mark St George's Day. I'm very proud to be English and I think it is important that people in England can celebrate St George's Day, just as other nations of the United Kingdom celebrate their patron saints' days.

Over the weekend, events were held from Cornwall to Cumbria and from London to Lancashire to celebrate everything it is to be English. And today, England's national symbol - the flag of St. George - will fly high over Downing Street, just as it will over public buildings, churches and schools all across England.

But as those of us in England mark this special day, so we also remain just as proud to be part of the United Kingdom – a family of nations that will always be stronger together than they ever would be apart.
Published 23 April 2013