Prime Minister promotes trade in New York
The PM discussed trade and investment opportunities in the UK with senior business leaders during a visit to New York City.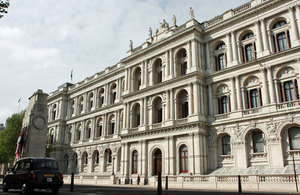 The Prime Minister met with Mayor Michael Bloomberg after arriving in New York
The Prime Minister met the senior business executives at a roundtable hosted by NASDAQ OMX. David Cameron talked about measures to secure economic growth and stability and discussed the Government's position on financial regulation reform in the UK.
Separately, the Prime Minister met with Jeff Kindler, Chairman and CEO, Pfizer. As one of the largest inward investors in the UK, Pfizer maintains continued engagement and meets with the UK Government on a regular basis to discuss key issues, including the environment for bioscience investment in the UK and the work of the Office of Life Sciences. Pfizer announced late last year that the company's only global R&D centre outside the US will be located in Sandwich, England.
PM David Cameron visits NY
The Prime Minister also met the United Nations Secretary-General, Ban Ki-moon, immediately on the secretary-general's return from the Kabul Conference, to discuss Afghanistan, the Middle East and preparations for the Summit on the Millenium Development Goals in September.
The leaders agreed that the current strategy in Afghanistan was right, and that a political surge was an essential part of the next phase of the campaign. On the Middle East, there was a clear consensus on the need for a concerted international effort to deliver a diplomatic solution on the Iran nuclear issue and on the need to implement the sanctions package agreed by the Security Council. They also urged both Israel and the Palestinians to engage in direct peace talks.
Before leaving New York, the Prime Minister was guest of honor at a dinner hosted by Mayor Michael Bloomberg and the Bloomberg Family Foundation. He made remarks on the importance of trade and on the next steps on the road to a sustained global economic recovery. Guests included prominent leaders from business, politics, academia, philanthropy and the media. The Prime Minister also saw Mayor Bloomberg earlier in the day for a New York style hot dog.
The British Consul General, Sir Alan Collins KCVO CMG said:
"The PM's visit to New York focused mainly on business issues. This is further evidence that the coalition government's number one priority is to boost trade and investment and show that Britain is open for business.
"The US and UK remain each others' single largest investors and partners for trade in services. We look forward to welcoming more American businesses to the UK which remains the natural partner of choice for US companies expanding overseas, offering a springboard to Europe and the rest of the world."
The Prime Minister's visit to the United States began with a stop in Washington, where he met with President Barack Obama and had meetings with leaders on Capitol Hill and the Pentagon.
Published 22 July 2010