Prime Minister pledges extra £67m to counter IEDs
Prime Minister David Cameron has announced extra resources for British troops in Afghanistan to deal with roadside bombs during his first visit to Afghanistan since the formation of the Coalition Government.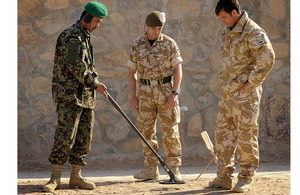 During a joint press conference with Afghan President Hamid Karzai in the Afghan capital Kabul today, Mr Cameron said an additional £67m will be provided to help troops counter improvised explosive devices (IEDs).
He also announced additional funding for policing, education, jobs and governance reform in Afghanistan.
Mr Cameron said:
My biggest duty as Prime Minister of the United Kingdom is to our Armed Forces and to make sure that they have all the equipment and all of the protection that they need to do the absolutely vital job that they are doing here in Afghanistan.
I'm pleased to announce today that we will be spending an extra £67m on countering the IED threat and actually doubling the number of British teams that are there to counter the threat from those explosive devices.
Mr Cameron emphasised the importance of the relationship between the two countries and that Afghanistan is Britain's most important foreign policy and national security issue.
He added that this year will be a 'vital year' when NATO forces have to make progress - both for the sake of the Afghan people and on behalf of people in Britain 'who want to see this work and want to see progress'.
The two leaders also met last month and held talks at Chequers where they agreed that the relationship between Afghanistan and Britain should be further strengthened.
Published 10 June 2010