Press release
Prime Minister names new Business Ambassadors to support international trade and investment
The Prime Minister has announced some additions to the government's Business Ambassador network.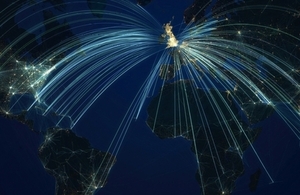 The Prime Minister has reinforced his commitment to boosting the UK's performance in international trade and attracting investment by announcing some additions to the government's Business Ambassador network.
These newly appointed Business Ambassadors bring with them a wealth of business experience and will support the government in promoting the UK's excellence in overseas markets, as well as assisting UK businesses to take advantage of business opportunities both in the UK and overseas.
The Prime Minister said:
It is excellent news that some of Britain's best and brightest business minds will be working with us. Our new Business Ambassadors will bring a wealth of experience and expertise, helping us to unlock markets, grow our international trade and boost inward investment.

Showing the world that the UK is open for trade and investment is a key part of our plan to deliver economic security. Ambassadors of this calibre show we mean business.
The new government Business Ambassadors are:
Karen Blackett OBE (MediaCom)
Liv Garfield (Severn Trent)
Paul Kahn (Airbus Group UK)
Stephen Kelly (Sage)
Emma Jones MBE (Enterprise Nation)
Holly Tucker MBE (notonthehighstreet)
In more specific terms, Business Ambassadors will:
when travelling on business, carry out priority meetings at the request of government, for example lobbying to remove barriers to market access or leading events for SMEs
undertake dedicated overseas visits or lead missions in agreement with UK Trade and Investment (UKTI)
brief UK Ministers and Ambassadors on business priorities and interests as they might arise
meet overseas Ministers and inward missions
provide insights into how UKTI can do the best for business
contribute to government-to-government dialogues with international markets
Notes to Editors:
The Business Ambassadors Network was created in October 2008, with a particular focus on helping small and medium-sized enterprises (SMEs), which sometimes face greater barriers to accessing global markets than larger businesses. The roles are unpaid.

Guidelines have been put in place to avoid conflicts of interest. Business Ambassadors will be required to discuss with the UKTI Chief Executive and the BIS Permanent Secretary any potential conflicts in advance of carrying out specific activity as a Business Ambassador.

Business Ambassadors are supported in their role by a dedicated secretariat in UKTI. The secretariat works closely with Business Ambassadors to ensure maximum benefit for UK PLC from their input and to ensure that processes are in place which guard against conflicts of interest and protect confidentiality.

UKTI will review the scheme and the contribution of the Business Ambassadors on an ongoing basis.

UKTI is the government department that helps UK-based companies succeed in the global economy. We also help overseas companies bring their high quality investment to the UK's economy - acknowledged as Europe's best place from which to succeed in global business. UKTI offers expertise and contacts through its extensive network of specialists in the UK, and in British embassies and other diplomatic offices around the world. We provide companies with the tools they require to be competitive on the world stage.
Published 20 November 2015