News story
Prime Minister: Libya - "The time for action has come"
From:

Part of:

Published:

19 March 2011
This was published under the 2010 to 2015 Conservative and Liberal Democrat coalition government
Prime Minister David Cameron met with French President & UN Secretary General in Paris.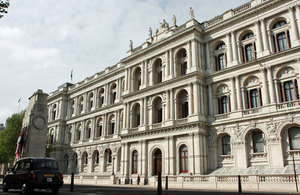 Prime Minister David Cameron has said the "time for action has come" after it became clear that Muammar Gaddafi had violated his own ceasefire.
Mr Cameron joined other world leaders - including representatives of several Arab states - at an emergency summit in Paris which agreed to deploy military aircraft to stop the assault on Benghazi.
Speaking after the summit, the PM said:
"What is absolutely clear is that Gaddafi has broken his word, broken the ceasefire and continues to slaughter his own civilians.
"This has to stop. We have to make it stop. We have to make him face the consequences. So I think it is vitally important that action takes place and action takes place urgently.
"Obviously at this time our thoughts should be with those who are going to risk their lives to help save the lives of others.
"I think it is vitally important that, with the United Nations behind us, with the clear legality of this action, and with local countries supporting us as well, it is right to act."
Participants in the summit agreed "to use all necessary means - in particular military means - to enforce Thursday's UN Security Council resolution on Libya.
Mr Cameron said action needed to be urgent and must "enforce the will of the UN".