Prime Minister holds talks with Russian President
The leaders discuss key foreign policy issues, and the economy during their first meeting.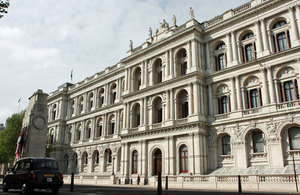 The Prime Minister held his first meeting with Russian President Dmitry Medvedev Friday evening at the G8 Summit in Muskoka. The leaders discussed Iran, the economy, and the Middle East.
The Prime Minister commented:
"It has been a great pleasure to have this face-to-face meeting. We have spoken on the telephone and it has been good to have this meeting. As you say, I think there is a real opportunity to put the bilateral relationship on to a new footing, to try to make a stronger start and to work through the issues where we have agreement and those where we still have things to work through. But I think there is a lot of common ground on the economic issues we face and the challenges of dealing with deficits, getting our economies growing and more economic cooperation between our two countries."
More information on the meeting is available from Number 10's web site.
The G8 Summit continues Saturday morning before Mr. Cameron returns to Toronto to meet with US President Barack Obama prior to the start of the G20 Summit.
Saturday evening Mr. Cameron will join his G20 counterparts for a working dinner.
The main focus of the G20 will be the world economy, and continued recovery from the economic crisis.
Published 26 June 2010