Prime Minister David Cameron visits Kuwait
The Prime Ministers of the United Kingdom and Kuwait welcomed close and broadening engagement between their two countries during their meeting on Tuesday 22 February.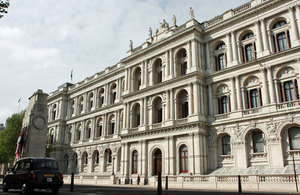 They discussed developments in the wider region, and underlined their support for reforms to address the legitimate aspirations of citizens for greater economic development and more inclusive and open political systems. They agreed that reforms must be home-grown, that there are many ways of meeting these aspirations and that there is no single model of government in a region with distinct cultures and differing political systems. However, by addressing these legitimate aspirations seriously now, countries can enhance their long term stability and prosperity.
The two leaders also underlined the importance of urgent economic and political reform in Yemen, and on the Middle East Peace Process renewed their call for a return to negotiations on the basis of clear parameters as soon as possible.
The British Prime Minister had been pleased to visit the Kuwaiti Parliament, which was a prime example of democratic structures in the region and elected by universal suffrage. He reiterated the United Kingdom's long history of support for Kuwait over the past century, and wished Kuwait well for its celebrations this month of 50 years of independence and the 20 year anniversary of its liberation.
Published 22 February 2011