Prime Minister David Cameron in talks with President Karzai
Prime Minister said he wanted to "further strengthen" relations between Britain and Afghanistan during his discussions with President Karzai on Saturday 15 May.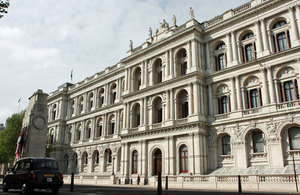 President Karzai was the first Foreign leader to meet Prime Minister David Cameron. The visit came a day after Foreign Secretary William Hague held talks with US Secretary of State Hillary Clinton in Washington with Afghanistan topping the agenda.
Read more about the visit on the number10 website
The situation in Afghanistan was also discussed during the first meeting of the National Security Council on Wednesday 12 May.
Speaking earlier on BBC Radio Today programme about Afghanistan, Foreign Secretary William Hague said:
'This is a crucial year, as I say. This may be a decisive year in Afghanistan. It's vital that we continue to make military progress, the security progress on the ground. Progress is being made, but now we have to see an effective political process aswell and that's what the United States has been working so hard on this week and that's where our efforts in British relations with President Karzai and his government will come in over the coming weeks
in a strongly co-ordinated way.'
Published 15 May 2010