Prime Minister attends G8
Prime Minister David Cameron joins other Group of Eight leaders for talks in Muskoka.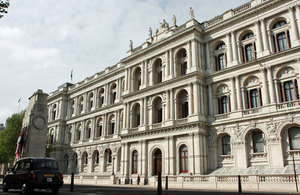 Canadian PM Stephen Harper welcomes the PM to the Muskoka G8 Summit.
Prime Minister David Cameron is meeting with his G8 counterparts Friday in Canada's Muskoka region. The G8 Leaders Summit is the first part of back-to-back summits being held in Canada over the next three days. The G20 Leaders Summit begins Saturday in Toronto.
The topics expected to be discussed during Friday's meetings include:
maternal and child health
security
nuclear proliferation
the environment
On Friday the Prime Minister wrote in Canada's The Globe and Mail newspaper on the challenges facing the G8 and G20 Leaders as the summits begin.
The Prime Minister wrote:
"So the challenge for the upcoming G8 and G20 is to be more than just grand talking shops. The preparations that Prime Minister Harper has led have been thorough: the right first step and I pay tribute to him and his team. Now, I believe that if we want to make a difference, we need a tight focus on what we actually want to achieve, with leaders - including me - being willing to be held to account and made to live up to our promises. We need to show people that we can get real results - by concentrating on key priorities and then driving them through relentlessly, year after year."
Mr. Cameron also sat down for an interview with CBC News that will air Friday evening.
Earlier on Friday, The Prime Minister met with Canadian Prime Minister Stephen Harper and Italian Prime Minister Silvio Berlusconi for bilateral discussions. The Prime Minister is expected to meet with Russian President Dmitri Medvedev, US President Barack Obama and Chinese Premier Hu Jintao before the Summits conclude on Sunday.
Published 25 June 2010