Prime Minister attends European Council on Libya
Prime Minister David Cameron attended an emergency European Council in Brussels to discuss the EU response to events in Libya.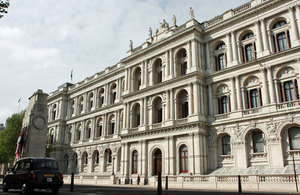 Speaking at the end of today's extraordinary European Council in Brussels, Mr Cameron said the EU's 27 leaders were "united, categorical and crystal-clear" that Colonel Gaddafi must go.
The PM said there were four strands to his policy on Libya - getting British Nationals out, which he said was essentially done; isolating Gaddafi and ensuring accountability for his actions; delivering humanitarian support to the Libyan people and others affected by the violence; and pursuing contingency planning on the full spectrum of options.
Mr Cameron said the EU leaders had today agreed to strengthened financial sanctions and said the UK has now frozen a total of 12 billion pounds of Libyan assets. He also said they had agreed that contingency planning must be continued on possible further action.
He said:
"We are clear that action must be necessary, legal and win broad support, but we must be ready to act if the situation requires it. Today, the EU agreed to consider all necessary options when it comes to these eventualities.
"We also agreed to tighten the net on him and his henchmen, so we have strengthened the financial sanctions on the regime, adding the Libyan Central Bank and Libyan Investment Authority to the EU asset-freezing list.
"In doing so, the UK has frozen a total of £12 billion of Libyan assets."
Ahead of the meeting, the PM and French President Nicolas Sarkozy wrote a joint letter to President Van Rompuy urging Europe to be ready for "all possible contingencies" in Libya.
Mr Cameron and Mr Sarkozy said the Libyan regime had "lost any legitimacy it may have once had" and stressed that leaders should unite in calling for Mr Gaddafi to leave now.
Published 11 March 2011