Prime Minister appoints new military assistant
Prime Minister David Cameron announced the appointment of Colonel Jim Morris of the Royal Marines as his new military assistant yesterday, Wednesday 13 October 2010.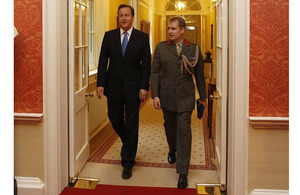 This is a new post which has been created by the Prime Minister to further strengthen the Government's and the No 10 team's links to the Armed Forces.
Colonel Morris will provide the Prime Minister with assistance on the full range of military issues, with a focus on ongoing operations in Afghanistan.
He will work closely with the Chief of the Defence Staff as well as with the National Security Adviser in providing support to the Prime Minister on these issues.
Colonel Morris has a range of relevant experience including substantial exposure to operations in Afghanistan.
As Commanding Officer of 45 Commando Royal Marines he deployed with his unit to Sangin as part of the UK Task Force in Helmand and his success on that operation was recognised with the award of a Distinguished Service Order.
In addition, he had previously served in the ISAF headquarters in Kabul as Chief of the Operations Branch. More recently, he has worked as military assistant to the Defence Secretary.
Prime Minister David Cameron said of the appointment:
I am very glad to welcome Jim to the team at No 10. His appointment reflects the very high priority I attach to ensuring the needs of the Armed Forces are heard right at the centre of Government.
Jim will bring a wealth of military experience to my team, including direct experience of working in Afghanistan, which remains the Government's highest national security priority.
Secretary of State for Defence, Dr Liam Fox, said:
This is an excellent appointment for the Prime Minister and the Government. I have enormously appreciated Jim's straightforward advice and support based on his own considerable experience not least as a Marine Commander in Helmand.
He will bring his common sense, experience and good humour to No 10. The MOD's loss is the Prime Minister's gain.
Published 14 October 2010